Started in 2003 the Gourmet Society has now firmly established itself as the UK's leading discount dining card. Annual membership costs just £53.50 and offers members 2-for-1 meals or 25 per cent off total bill - including drinks - at over 3000 restaurants throughout the UK.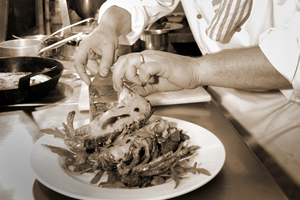 With a huge variety of cuisines and dining styles to choose from members can enjoy up to half price food in all categories of restaurants. From Michelin-starred establishments to independents, and with famous names chains like Pizza Express, Café Rouge, Loch Fyne, The Living Room and Prezzo, participating cardholders are able to make substantial savings on their restaurant bills throughout the year. Members can also use the card in selected establishments of the some of the UK's finest chefs such as Gary Rhodes, Atul Kotchlar and Marco Pierre White.

Unlike many other promotions, such as online vouchers, Gourmet Society members are not restricted to set menus or certain dishes. Instead they can choose whatever they like from the restaurant's normal à la carte menu. The card is also not restricted to just one city or region but provides members with dining opportunities nationwide.

On average Gourmet Society cardholders save £25 on each visit to a restaurant. If you eat out once a week that equates to over £1300 of Gourmet Society savings in a year. Naturally, the more you eat out, the more you save.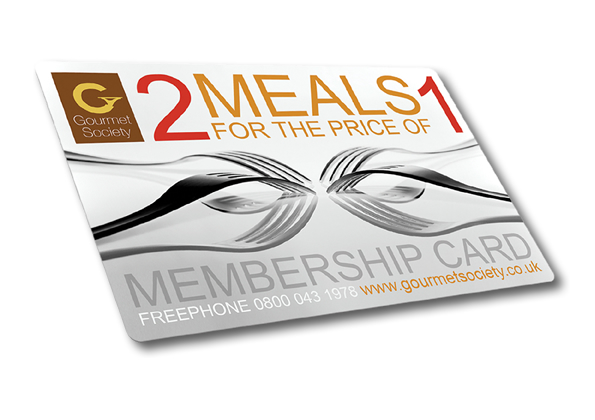 Upon joining members receive an exclusive Gourmet Society dining card along with a comprehensive dining directory which includes the details of all participating restaurants, the specific offer applicable to each restaurant and the maximum number of diners included in the offer. Cardholders can also use the Gourmet Society website to search for a restaurant which can be found either by area, by postcode or by restaurant name. Members are also be entitled to access the protected area of the Gourmet Society website as well as sign up to receive regular newsletters where they will find up to the minute information on new restaurant partners joining the scheme.

Fanatical about service the Gourmet Society strives to offer its members additional benefits of membership. Currently these include 25 per cent off wine at all branches of Oddbins, discounted entry to the UK's major food events, and a whole range of savings on cooking and food products, gifts and experiences.

To find out more visit www.gourmetsociety.co.uk


For your chance of winning an exclusive Gourmet Society dining card just answer this question:

In which year did the Gourmet Society started?

Enter here

The winners will be the senders of the first two correct emails opened at random after 6pm on Friday 26 February. All entrants will receive a promotional code to enjoy the benefits of the Gourmet Society card for a two month trial.