Here is the winner and runners-up in our penultimate competition of 2008 - there's still time to enter the second Giggles competition!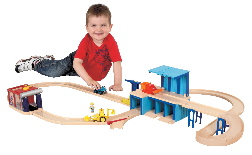 Barbara Webster from Hull won the fantastic Bob the Builder SNAP TRAX set featuring locations from the popular TV series – the carwash and garage. The SNAP TRAX pieces snap together easily to create either a road or rail surface.

And the runners-up who won Bristle are:
Kay Stenson, Birmingham

Angela Evans, Southport

Heather Simpson, Fife

Rev'd Mark K Madeley, Halifax

Chris Peil, Derbyshire

Jo Bryan. Peterborough

Maureen Ansell, Essex

Catherine Crampton, London

Elaine Denne, Kent

Liz Bull, Lincolnshire
Our thanks to Born to Play for sponsoring this competition.