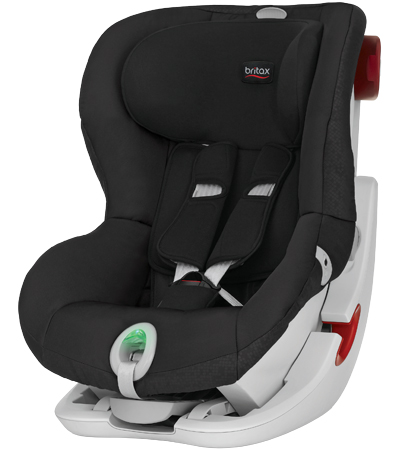 King II ATS is the new generation of child safety seat from Britax. I was asked to trial this in my vehicle which is a VW Tiguan. Your car must have a tilt forward seating area and patented seat belt tensioning system. If in doubt call Britax to confirm its compatability with your vehicle.
The seat itself is robust and well built from the structure through to the fabric, with attention to detail as you would expect from its country of manufacture, Germany.
Installation was simple and effective and I found the youtube video ideal to help explain how to achieve this as well as the installation brochure that contains customer tips. This car seat incorporates the latest technology called ATS, The Active Tensioning System. This system is worth its weight in gold if you have a child, as I do, who is an escape artist with the shoulder straps. The King II ATS system works with the child and ensures the right tension is present throughout the journey. When your child is first placed in the seat you set the tension and a green light indicates it's at its optimum setting for your child's comfort and safety.
The great thing about the King II ATS system is the intelligent warning system that alerts you with a sound and light indicator if the harness is undone or no longer at the correct tension. The seat sounds an alert and flashes a red warning light, telling you to check the harness when it's convenient to pull over. This is a fantastic safety feature for any driver carrying a child, to be aware of theer safety and to be able to react, safely, at the earliest convienience.
On my trial it was tested many times and I would never get another seat without ATS. Another nice touch is the strap lock holders on each arm, this means if you have a struggling child, in the seat, you aren't getting entangled in the child straps along with your little one.
In summary the KING II ATS is a Group 1 belted seat, suitable for children aged nine months to four years (9kg-18kg); it actively watches over your child throughout the journey thanks to the revolutionary safety system that checks, adjusts and monitors the harness tension automatically.
The KING II ATS is a fantastic product that gives you peace of mind when travelling with your little treasure.
PWT rating: ♥♥♥♥♥
The KING II ATS is now available exclusively from Mothercare £180 in Black Thunder.