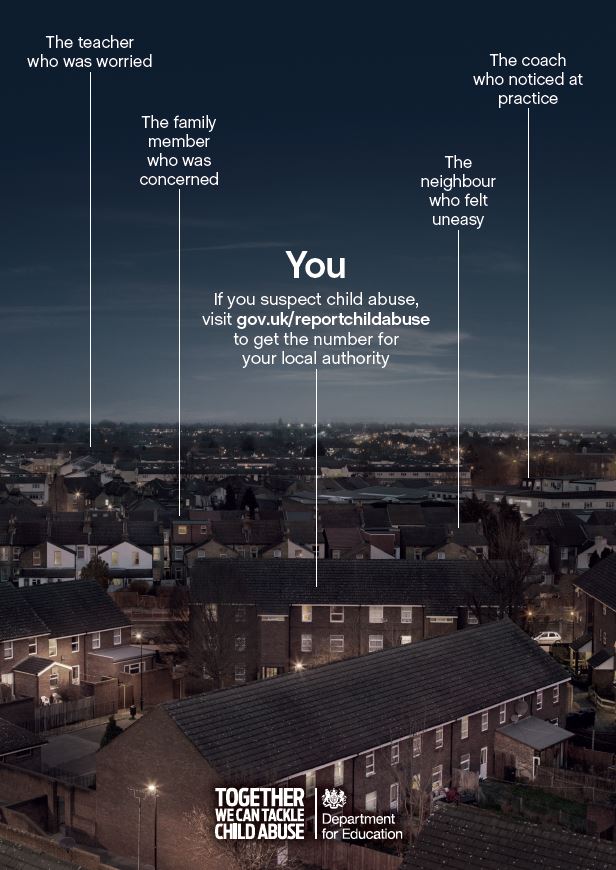 Together, we can tackle child abuse. We all have a role to play in protecting children and young people from child abuse and neglect but most people find the decision to report child abuse a difficult one. They worry about overreacting or being wrong, and may question whether they have strong enough evidence, or if they have misread the signs of abuse or misunderstood a situation.
These fears are understandable, but unfounded. You don't need to be absolutely certain of what you've seen or heard to call your local children's social care team. Information is usually gathered from many sources, and your report would form one part of a bigger picture.
Another big worry people have is that someone will find out they have made a report, but this is unlikely to happen as you can make the call anonymously, although most people do give their details.
Some people don't report suspected abuse because they think it might just be a one-off. But even if that is the case, every child deserves to be protected and it is better to be safe than sorry.
Research shows that some people prefer to talk to someone such as a partner, family member or friend before making a report – and that's perfectly fine.
If you have a feeling that something's not right, talk to your local children's social care team who can look into it. To spot the signs of child abuse or neglect, look for changes in:
• Appearance – such as frequent unexplained injuries, consistently poor hygiene, matted hair, unexplained gifts, or a parent regularly collecting children from school when drunk.
• Behaviour – such as demanding or aggressive behaviour, frequent lateness or absence from school, avoiding their own family, misusing drugs or alcohol, or being constantly tired.
• Communication – such as sexual or aggressive language, self-harming, becoming secretive and reluctant to share information or being overly obedient.
If you're worried about a child, visit gov.uk/reportchildabuse to get the number for your local authority.