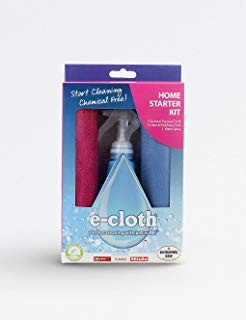 Read our reviews here.
e-cloth's Home Starter Kit
All you need to make the switch to quick and convenient chemical-free cleaning. It includes a general-purpose cloth, a glass and polishing cloth as well as a refillable 125ml water spray with a variable jet which allows you to conquer dirt, grease and bacteria without using potentially irritant and allergy-inducing chemicals. This great-value kit combines e-cloth's two best-selling cloths making it ideal for customers new to e-cloth. RRP £9.99.
e-cloth's General-Purpose Cloth
One of the two original e-cloths. Highly versatile, the thicker fibres remove thick grease, dirt and bacteria from all hard surfaces. Use in combination with the Glass & Polishing cloth for a perfect streak-free finish. Available in a variety of colours. RRP £4.99
e-cloth's Glass & Polishing Cloth
Designed to be used dry on a damp surface, it flash-dries glass and all shiny surfaces to remove light grease and dirt, such as finger marks, and leave a brilliant, streak-free finish. Available in assorted colours. RRP £4.99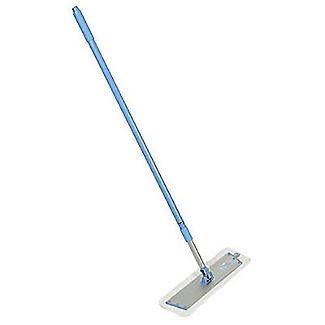 e-cloth's Deep Clean Mop
Removes grease, dirt and bacteria with nothing more than water. It comes with a two-section aluminium telescopic handle and base and because it leaves floors drier, it is the real deal for wood and laminate flooring. There is also a lighter Mini Mop with a smaller head – ideal to keep in the bathroom. The heads are machine washable. RRP £19.99 / £14.99
e-cloth's Window Cleaning Pack
Includes a thicker window cloth for heavier cleaning and a Glass and Polishing cloth to leave a streak free finish. Unlike costly chemical cleaners, there is no nasty residue to dull paintwork and PVC and no danger of inhaling irritant chemicals. The cloths even remove the bacteria and fungal spores which can exacerbate asthma and other breathing problems. RRP £9.49
e-cloth's Kitchen Whizz
Longer fibres get to those hard-to-reach areas around taps and into corners. It incorporates scrubbing "stripes" to remove stubborn dirt and residue. RRP £2.99
e-cloth's Washing Up Pad
Tough on the washing up, but kind to non-stick finishes. The smooth yellow side is ideal for washing up crockery and glassware, while the silver, non-scratch scrubbing side removes more stubborn food residue from saucepans and utensils. RRP £2.99
e-cloth's Wash & Wipe Cloths
These come in a pack of two and are superb for washing up and wiping down. They also have a unique bleachable construction. RRP £2.99
e-cloth's Stainless Steel Cloth
A dual-sided cloth designed to clean and polish all types of stainless steel. The striped side has firmer fibres which clean into the "grain" of brushed steel while the smooth side cleans and shines polished steel surfaces. Also available in a Stainless Steel Cleaning Pack. RRP £4.99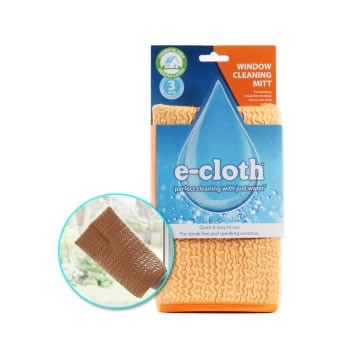 e-cloth's Window Cleaning Mitt
Eliminates the elbow grease usually required when cleaning windows and leaves glass sparkling clean and streak-free. It even removes the bacteria and fungal spores which can exacerbate asthma and other breathing problems. Simply slip on the mitt, spray windows with a light sprinkling of water and wipe away grime as the rippled microfibre fabric takes the hard work out of window cleaning. Unlike costly chemical cleaners, there is no nasty residue to dull paintwork and PVC and no danger of inhaling irritant chemicals. The mitt is made from premium ripple fabric and is ideal for all windows, mirrors and car windscreens. RRP £9.99