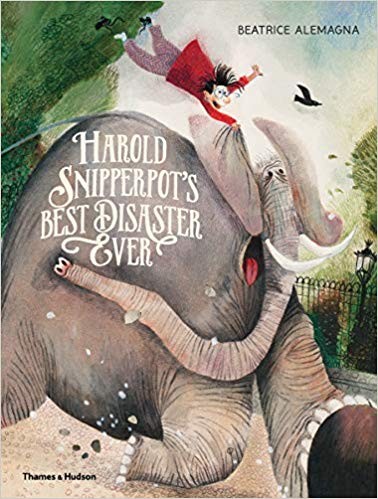 Well what an absolute jewell of a book Harold Snipperpot's Best Disaster Ever by Beatrice Alemagna is. A large format picture book with an excellent and engaging narrative containing challenging words for older and more proficient readers.
Harriet, who is happy reading the likes of Jacqueline Wilson, adored reading it to me and kept pointing out parts of the illustrations which delighted her.
Told in the first person by Harold Phillip Snipperpot who is just about to celebrate his seventh birthday, the book is a brilliant tale of what happens when his parents decide to give him a party. He has never had one before as his parents are grumpy and don't like parties – or each other, it seems. But they do realise that Harold is sad and engage Mr Ponzio to organise the party...
What follows is a joyous celebration of the absurd which will have children – and adults – chuckling. I won't spoil the surprise by revealing more. Each illustration is simply marvellous and there is so much to discover. The progression of the narrative is hilarious with a fantastic feel good ending.
A brilliant book to be enjoyed over and over again.
PWT rating: ♥♥♥♥♥
Published by Thames & Hudson, Harold Snipperpot's Best Disaster Ever
by Beatrice Alemagna is availabel from Amazon and bookshops.