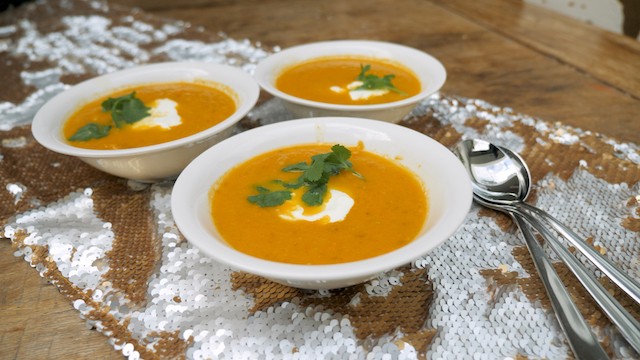 As part of its Christmas campaign Gifts for your gut, Bowel & Cancer Research, together with chef Tonia Buxton, The Gut Stuff founders The Mac Twins, and expert nutritionist and Bowel & Cancer Research ambassador, Lily Soutter, have compiled the ultimate gut-friendly Alternative Christmas Dinner.
Christmas is a time of over-indulgence for most, with late nights, too much alcohol and rich foods, which can all present difficulties for those with gut-related illnesses such as IBS, or sensitive tummies.
The video sees the fantastic trio of Tonia Buxton and the Mac Twins in Tonia's home, creating delicious alternatives to the usual festive fare, along with fascinating facts about gut health, how to look after your good gut bugs and tips on great swaps for ingredients that can upset tummies if you live with a digestive condition such as IBS.
Here's Tonia's recipe for her Winter Warmer Soup:
Ingredients (Serves 4)
2 tsp cumin seeds

3 tsp coriander seeds crushed

3 tablespoons olive oil

1 red onion chopped

2 carrot roughly chopped

1 fennel roughly chopped

2 cloves garlic or garlic infused oil if garlic affects your gut

1 ½ pts vegetable stock

1 x 400g plum tomatoes or fresh grated tomatoes

1x 200g cans chickpeas drained

sea salt and freshly ground pepper

bunch coriander, chopped.

Greek yogurt or coconut yogurt if dairy intolerant.
Method:
In a large saucepan dry fry the cumin and coriander till they start to jump

Add the oil and onion and gently fry till transparent but not browned.

Add carrots & fennel

Add tomatoes

Add the stock

Simmer for 30-40 minutes. Until all the veg is soft.

Blend the soup to a smooth texture

Add the chickpeas, and simmer for another 5 minutes

Taste and season.
Serve hot with a dollop of yogurt and a sprinkling of coriander, and lots of bread for dipping.
Bowel & Cancer Research is a leading and innovative medical research charity that also understands the practical challenges faced by people living with bowel conditions. IBS is an invisible illness that affects up to 20 per cent of the population – affecting twice as many women as men. Symptoms can include bloating, pain, diarrhea and/or constipation. Making changes to your diet is often the most important factor in managing IBS, the Alternative Christmas Dinner recipes offer simple swaps that people can make at home to ease the strain on their stomachs this festive season.