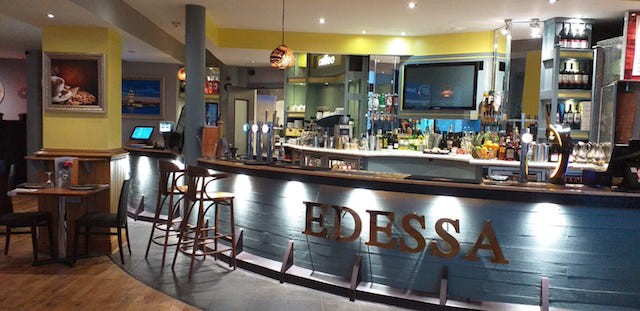 One thing we noticed arriving in Margate on a Tuesday was that many restaurants do not open until Wednesday and some to not start serving until 7pm which might be late for smaller children and those too hungry to wait!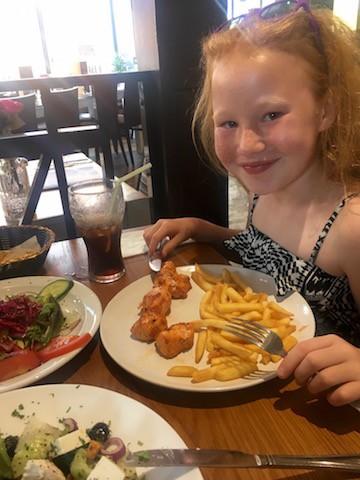 So we were delighted to stumble upon the Edessa Turkish Restaurant which is open all day. When we arrived it was empty but it soon filled with other diners including many families with young children. High chairs are available as well as baby changing facilities. And the staff are totally charming.
Harriet was hungry – it was a little early for me – so we were delighted to see a children's menu which included Turkish staples and Harriet's favourite Chicken Shish Kebab. I had a Feta cheese salad (with a side of chips to show solidarity). We didn't really need the olives we ordered to start as there were so many in my salad but the bread was declared to be delicious by Harriet who also received a complimentary salad with her meal.
There was a convivial atmosphere in the Edessa and we both enjoyed our meals. The restaurant is clean, bright and welcoming and I'd certainly go again. They also offer lunchtime deals plus take-away and home delivery service.
Our meal including a glass of house wine and a coke came to just under £26. The child's meal Harriet had could easily be shared by two children with smaller appetites or those wishing to save some space for what looked like mouthwatering desserts.
PWT rating: ♥♥♥♥♥
Edessa Turkish Restaurant, 14-15 Cecil Square, Margate CT9 1BD
Open: Monday to Sunday 12pm to 11pm
Tel: 01843 228 555