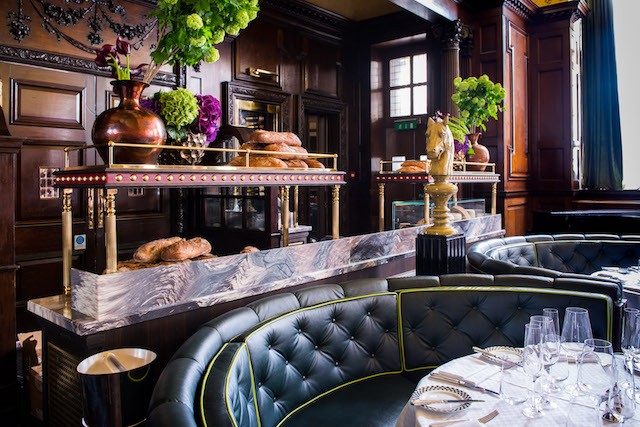 For foodie parents, fine dining can sometimes be difficult with children in tow and meals sometimes clouded by fears of tantrums or the embarrassment of picky eaters. Landmark London restaurant, Simpson's in the Strand has provided the backdrop to countless family dinners and treasured occasions throughout its 190-year history. Its contemporary "Bill of Fare" offers a special menu catering for its younger patrons, ensuring that family can dine out comfortably together, without feeling the unease that sometimes comes from fine dining with children or compromising on culinary standards.
When I was about Harriet's age my mother's mentor took us all to lunch at the Savoy. It was a wondrous occasion that I have never forgotten. The Savoy now owns Simpson's in the Strand, once a gentleman's chess club that didn't allow women in. Little has changed within the iconic building except the welcome it now offers women and families.
We were sitting at the table pictured above and Harriet (who doesn't yet play chess) was captivated by the knight watching over us.
Harriet loved everything about our lunch. The tables have plenty of space between them (so no worries about a sotto voce conversation being overheard) and children are given a Savoy booklet which includes a nicely challenging word search and colouring pencils.
Our visit was made extra special by the Restaurant Manager, Roy White, explaining some of the history and what has changed. As soon as he learned of my dairy intolerance he offered some slight changes to the menu. Gluten free and vegan diners are similarly catered for. Harriet wanted a cranberry juice which wasn't on the menu – no problem one was brought down from Knight's Bar.
Harriet had the London Smoked Salmon and found the goat's curd delicious. She followed this with roast beef which she loved having carved at our table. This came with roast potatoes, savoy cabbage and a very big Yorkshire pudding which brought an equally sized smile to her face. The portions for children seem large so I asked if two children with smaller appetites could share a meal. That would present no problem. You can see the full Bill of Fare for Young Diners here.
Having explained my dairy intolerance I chose the Baby Beetroot and goat's curd with crushed hazelnuts and pomegranate dressing followed by the Chef's Signature Thyme baked sea bass with girolle mushrooms and roast new potatoes. My meal was perfect and you can see what else is on offer here.
One of the many lovely things about Simpson's in the Strand is the enthusiasm of the staff and their mission to make your dining experience as happy as possible. Perfect venue for a family celebration which will be cherished for a long time.
PWT rating: ♥♥♥♥♥
Simpson's in the Strand is steeped in history and countless illustrious stories to fascinate and delight children over dinner: Arthur Conan Doyle dined at Simpson's regularly and the Grand Divan is featured in Sherlock Holmes stories, while Sir Winston Churchill was regularly spotted at the table by the fireplace. Simpson's is testament to its illustrious past and offers a cherished experience for generations to come.