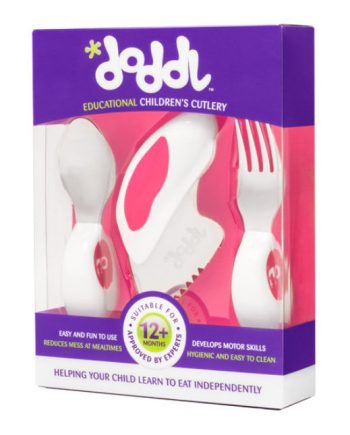 Doddl's Clever Cutlery is suitable for one to five-year-olds, and is perfectly shaped for little hands.
Our 13 month old son is able to use a spoon, and we used the Doddl cutlery to introduce the fork (and when I feel brave enough, the knife!).
The cutlery combines easy to hold plastic handles, with more grown up metal cutlery. A great way to bridge the transition from fully plastic baby cutlery to adult cutlery. Our son has found these really easy to use, he is confidently holding both the spoon and the fork and really enjoying practising his new skills.
They are dishwasher safe, so easy to clean alongside everything else. Once he is ready, we will be practising with the knife, which looks to be a great size for him to be able to grip safely whilst learning how to use it.
Really recommend and I imagine we will get years of use out of the set.
This would make a great birthday and Christmas gift.
PWT rating: ♥♥♥♥♥
Doddl Cutlery Set for Children, Toddlers & Babies 12 Months +, 3 Piece Knife, Fork & Spoon Cutlery Set Ergonomically Designed to Promote Self-Feeding in The Right Way (Raspberry Pink)
is available to buy from Amazon.
For more information visit Doddl