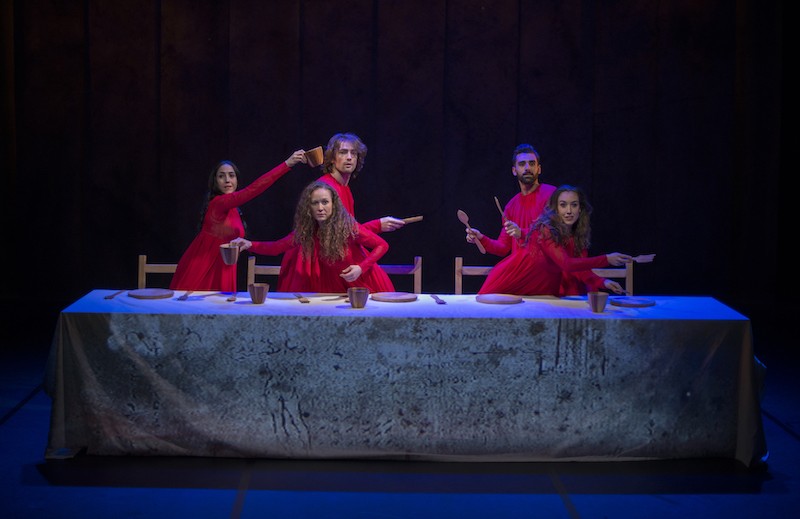 Multi award-winning company Aracaladanza returns to the UK with Vuelos, inspired by Leonardo da Vinci's quest to make man fly. Choreographer Enrique Cabrera uses Aracaladanza's trademark style to make dancers canter like horses, make a mess at the dinner table, play with fluttering birds and grow wings of their own.
In the Lilian Baylis Studio, the stage will be transformed into a mystical world by Vanessa Woolf, a professional storyteller. Woolf takes listeners on an adventure with a story inspired by da Vinci's wish to make man fly. This interactive and engaging story will demonstrate the value of hard work, supported by the loving family bond.
The Lilian Baylis Studio will also host a ceilidh with live music from The Ceilidh Liberation Front, a radical ceilidh band that subverts the ceilidh traditions with its own energetic style. Participants don't need to know the dances before they come as there will be a "caller" who will explain and demonstrate before each one begins. It's an opportunity for children and their families to have some fun and dance together to uplifting and inspiring music.
In the foyers, there will be lots of activities to entertain before and after the show. Arts and crafts activities include hat making, origami birds, decorating wooden spoons, stained glass and screen printing sessions. Casson & Friends will return with their interactive performance The Dance WE Made. This interactive dance performance invites everyone, with or without dance experience, to be choreographers. UK-based dancer and choreographer Tim Casson and The Dance WE Made collaborate with members of the public to devise original choreography which is then made into a dance piece and performed by The Dance WE Made team.
The foyers will all be decorated with designs by artist Anna Bruder, inspired by da Vinci's work. Bruder will create a world in her signature style; A Line Art. Using a thick black marker pen set against a white backdrop Bruder draws out lines of images. A Line Art style aims to take you to a childlike state of mind by transporting you into a simple black and white illustrated world, with a splash of colour.
The Fox Garden Court café at Stage Door will be open all day serving family-friendly food.
Doors open at 1pm for free activities. Age guidance five plus.
Performances:
Friday 14 April: 3pm
Saturday 15 April 11am and 3:30pm on Saturday
Tickets: £18 / Child £12
Ticket Office: 020 7863 8000 or www.sadlerswells.com
Sadler's Wells, EC1R 4TN