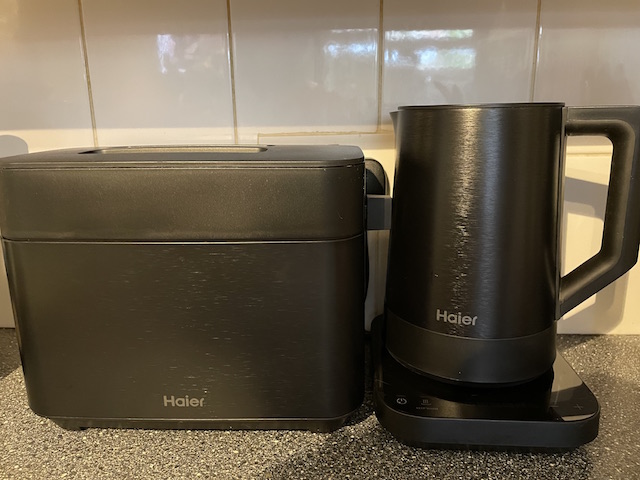 I was bowled over by the Haier range of kitchen products when I went to their press launch in the summer. For one thing the black makes them look so stylish and the classic design is fabulous, so if you go for looks alone they are on to a winner. But Haier are so much more than a pretty face. The company is totally committed to being eco friendly and this begins with the packaging of their products – everything is recyclable. And at a time when we are all checking our electricity consumption, the small appliances are eco friendly and energy efficient.
Haier I-Master Series 5 Kettle
This kettle is an answer to my prayers – at last I can actually boil just enough water for one cup of tea or coffee. No more wasted hot water and 40 per cent saving on electricity used! Inside the kettle is graduated from one cup to seven so I can be sociable as well! Easy to clean with a removable filter, a 360° swivel base, anti-slip feet and an ergonomic handle plus a keep warm facility.
The kettle has a range of heats from 20° to 100°. So 95° for coffee but if you are heating water for an infant's bottle then just press 40° so it's just the right temperature. For green tea you need water at 60° to 80° and check out your herbal teas to the optimum temperature.
As we move into winter more of us will be filling our hot water bottles and water temperature should be no more than 80° plus you should use a cover which will keep the bottle warm for longer and prevent skin burns.
I couldn't be more delighted with the Haier Kettle.
Haier I-Master Series 5 Toaster 2 Slices
My previous toaster having broken, I was using the grill and making toast was a hit and miss affair. Step forward this Haier beauty! Obviously the sleek design is a winner, but the first plus factor is the lid. Perfect for hygiene.
Again the digital functions mean a range of uses. There is function for a small slice and you can toast crispy on one side. How brown you like your toast is controlled by one to seven and I confess to being a seven – which makes a perfect slice of toast for me. With 21 customised programmes and a favourite button to save your preferred setting and access it with one touch, this is the toaster to die for.
Both appliances come with a two year warranty and free next day delivery.
PWT rating: ♥♥♥♥♥
Also in the series: Haier I-Master Series 5 Blender, Haier I-Master Series 5 Compact Food Processor, Haier I-Master Series 5 Multi Air Fryer.
For more details and to order visit Haier.