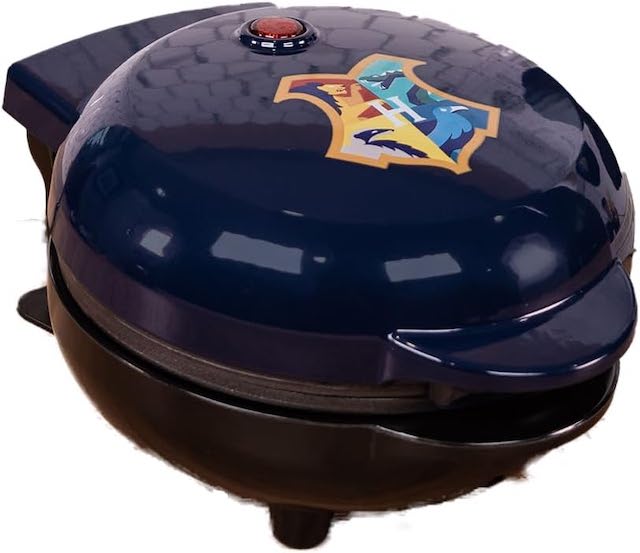 For Harry Potter fans everywhere here's something to add a touch of magic to your breakfasts – the Hogwarts™ Mini Waffle Maker from Uncanny Brands.
The design is stylish with striking art and die-cast aluminium plates a a touch of fun to any kitchen counter.The Waffle Maker has a cooking indicator light _ so when that turns off your food is ready. The mini waffle makers display your house crest, and mould them into your waffle, adding some wonderful wizardry to your breakfast.
Plus even more important if your teens are using this, the non-stick heating plates make clean up fast and easy. If any cooking batter is difficult to remove, add a small amount of oil and let it stand for about five minutes. Clean by wiping with a damp sponge or cloth, rinsing during cleaning and let it air dry. Hand wash the drip tray with soap and water and dry. Not suitable for the dishwasher. Store in a cool dry location.
This makes the perfect present or stocking filler if you're feeling generous for Wizard fans. Ideal for breakfasts after sleepovers.
The Harry Potter range also includes a single sandwich maker, a standard waffle maker, and an elite toaster. Each appliance adorning your toast, sandwich or snack with Harry's iconic glasses and thunderbolt!
PWT rating: ♥♥♥♥♥
Uncanny Brands appliances are available from: Amazon, Menkind (selected lines) and HMV (selected lines). Prices range from £24.99 for the small appliances to £36.99 for big appliances.