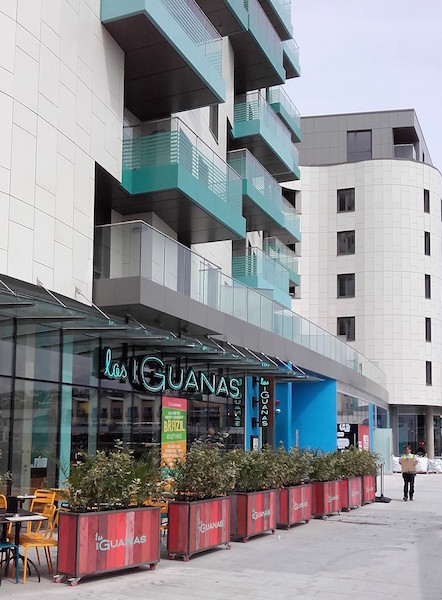 The Brighton Marina branch of Las Iguanas (there is another in Jubilee Street) is pleasantly situated on the boardwalk, on which there is outside additional seating.
We were warmly greeted at the door, and I was able to discuss my dairy allergy with regards to their extensive menu and they assured me that whatever I selected would be carefully monitored.
I started with Calamares in cayenne & cassava crumb and my friend, Janice, opted for the Garlicky Mushroom Quesadilla - tortilla, filled folded pa-roasted & served with tomato salsa. As neither of us care for very hot spicy food, we were slightly worried, but both selections had just the right amount of "heat", and were excellent.
For mains Janice went for the Sea Bass with a roasted sweet potato mash, char grilled asparagus, with a piquante pepper dressing & sweet potato crisps, which she very much enjoyed. I had the Havana club & Jerk BBQ glazed pork ribs, which as described, "fell off the bone" and were quite delicious, and served with either sweet potato mash or salad – I opted for the latter.
Sadly, Janice by now had no room for dessert, but I sampled the Mojito Jelly, set in a cocktail glass with lemon & lime sorbet, which made a refreshing end to the meal.
For drinks we went for the happy hour "two for one" cocktails: I had the Caipirinha - Las Iguanas Magnifica cacha, fresh lime & sugar, whilst Janice selected a Strawberry Red - Malibu, strawberry liqueur, lemon and cranberry juices & lemonade. After two of those each (delicious!) and the "kick" they provided, we decided against a whole bottle of wine, and to accompany the meal we had a glass each of Carmanere and Merlot, which were excellent.
We finished off with coffee: a spicy Brazilian expresso for me, and Janice had a coffee that included a generous measure of "Bailey's". The service was attentive without being intrusive, and very friendly.
There is a children's menu at £5.90 and a Kids Eat Free deal during the summer holidays.Try the Tapas menu and share 3 dishes for £14.95 or five dishes for £24.95.
PWT rating: ♥♥♥♥♥
Las Iguanas, Unit 3, Brighton Marina, Outer Harbour Development, Brighton & Hove BN2 5UT
Find your nearest Las Iguanas.