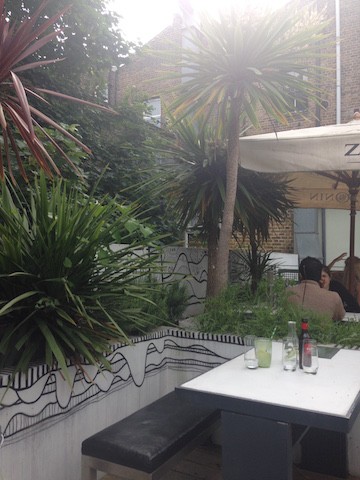 Since May Feather Moon Kitchen (FMK), a new all dining experience with a consciously curated children's menu, has been at Platform 1 in East Dulwich. Owner Chloe Gounder-Forbes has created a menu that focuses on healthy and organic food for children aged six months and above and those who dine with them.
The atmosphere in Feather Moon Kitchen is relaxed and welcoming. We went on a particularly lovely afternoon so sat out in the garden, near tomato plants growing in pots. We passed another family with an adorable baby and a couple without children. A little later another family arrived but this was the tail end of the restaurant's day. They had been so busy earlier on they'd run out of some of the items on the menu which is seasonal and based mainly of fruit, vegetables, chicken and fish and various types of bread.
I had the chicken and avocado on rye bread with a side salad. Harriet tried various options from sweet potato to chicken. Where the restaurant really comes into its own is the baby food. Lots of fabulous purées that are so popular mums are buying up takeaway versions. We both had a smoothie that was thirst-quenching and delicious. They also serve wine and beer.
Chloe is determined to introduce children to new flavours and has created a menu which is perfect for parents who like to give healthy, unprocessed food to their children but in a restaurant setting. Everything is made and cooked on the premises
FMK is also offering a platform for other interactive activities to inspire customers children, such as music, drawing sessions and language lessons. The aim is to create a local hub for food conscious individuals, where they can eat with confidence and discover healthy combinations and flavours.
PWT rating: ♥♥♥♥♥
Opening Hours Tuesday to Friday: 12pm to 5pm Address Platform 1, 71 Lordship Lane, East Dulwich, London, SE22 8EP
Platform 1 is a permanent pop-up restaurant located in the heart of East Dulwich, serving delicious and fresh food, by operating on semi-permanent kitchen rotations.