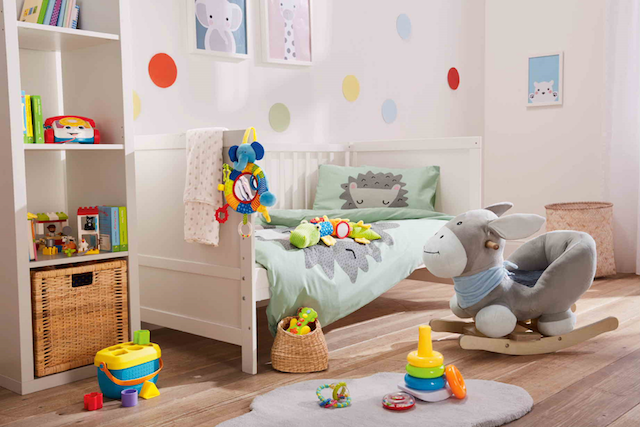 Parents looking to stock up on baby essentials this autumn need look no further, as Lidl has announced its autumn baby event. The sale features a number of top quality parenting brands and includes strollers, carriers and feeding essentials with prices starting from just £1.99.
A standout of the collection includes the Joie Nitro Stroller (£49.99, RRP £79.99), in stylish coal. The perfect travel accessory, the stroller is lightweight for portability and features a compact umbrella fold making it ideal for autumn strolls in the unpredictable British weather.
Never miss a thing with the BT VBM2000 Video Baby Monitor (£39.99, RRP £59.99), a handy device that allows parents to keep an eye on little ones from a distance. Complete with a portable parent unit for convenience.
Lidl is making dinner time a breeze with a selection of feeding essentials including the Tommee Tippee Bottle Set (£7.99), Tommee Tippee Heat Change Spoons (£2.99) and Tommee Tippee Explora Roll Go Bib (£2.49), the perfect meal time accessories for your little ones.
When it comes to playtime, Lidl's baby event has parents covered, featuring a variety of toys including a classic Rocking Horse (£29.99) great for junior jockeys and the Bright Starts Rattle (£2.99), perfect for keeping younger kids entertained.
Lidl's Baby Event hits stores on Thursday 22nd October and is available while stocks last. My advice is to get to your local store early. When I went to but the Singer sewing machine on offer that had sold the last one at about 1030am.
Full list:
| | |
| --- | --- |
| Baby Sleep Bag | £9.99 |
| Fisher Price Toy | £6.99 |
| Joie Nitro Stroller | £49.99 (RRP £79.99) |
| Rocking Horse / Donkey | £29.99 |
| Bright Starts Rattle / Teether | £2.99 |
| Learning Soft Toy | £4.99 |
| Tommee Tippee Comforter | £4.99 |
| Tommee Tippee Explora Roll Go Bib | £2.49 |
| Tommee Tippee Heat Change Spoons | £2.99 |
| Tommee Tippee Bottle Set | £7.99 |
| BT VBM2000 Video Baby Monitor | £39.99 (RRP £59.99) |
| Joie Nitro Stroller (Coal) | £49.99 |
| Graco Junior Maxi Group 2 3 Car Seat | £24.99 |
| Babylo Home Safety Pack 25pcs | £6.99 |
| Convertibles Book | £5.99 |
| Puffin-shaped Licensed Books | £1.99 |
| Baby Bodysuit – 3pk | £3.49 |
| Baby Bodysuit – 5pk | £4.99 |
| Baby Leggings – 2pk | £2.79 |
| Baby Joggers – 2pk | £3.99 |
| Baby Tops – 3pk | £5.99 |
| Baby Hoodie | £4.99 |
| Baby Bib Set – 2pk | £1.99 |
| Tommee Tippee Sports Bottle - 2pk | £3.99 |