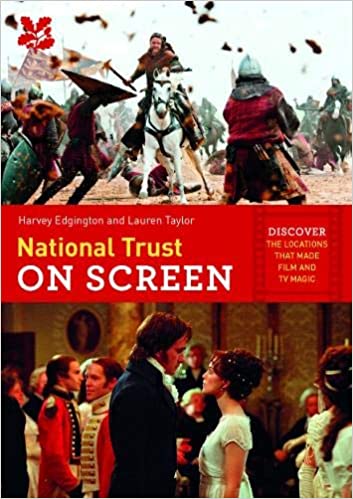 If you've been catching up on boxsets of your favourite TV series and films – and who hasn't during lockdown – then you've probably been marvelling at the lavish sets and and amazing locations. Some of these are owned by the National Trust and although they have tantalisingly opened their grounds and gardens, the historical houses, cafés and shops remain closed.
So what better way to complement viewing your favourite series with some behind-the-scenes information and absorb more about the locations than with National Trust On Screen by Harvey Edgington and Lauren Taylor.
Beautifully illustrated throughout with shots from from films and TV programmes as well as previously unpublished photos of actors, directors and film crews this is a book to dip into for fun and inspiration (if you are thinking of running an online quiz night!).
The books's chapters are assembled geographically with a colour for each for easy identification: South West; London and South East; East of England; Midlands; NorthWest. Yorkshire and North East; Wales; and Northern Ireland. Films and locations are cross referenced in the comprehensive index. So whether you begin with an area you may be visiting or your current favourite film, you'll find lots to entertain you.
There's something from everyone from Game of Thrones, to The Crown, from Pride and Prejudice (TV 1995 and yes shots of Colin Firth!) to Doctor Who there's a plethora of tantalising tidbits to whet your appetite to visit the locations plus details of how effects were created and filmed.
Look out for the little "film clips" scattered throughout the text with more facts to conjure with. Do take time to read the introduction which gives you some idea of how much the two location managers, Harvey Edgington and Lauren Taylor, love their job.
I loved National Trust On Screen – the perfect companion for National Trust members and visitors as well as film buffs.
PWT rating: ♥♥♥♥♥
National Trust on Screen: Discover the Locations That Made Film and TV Magic
is published by Pavilion Books or can be ordered from your local bookshop.