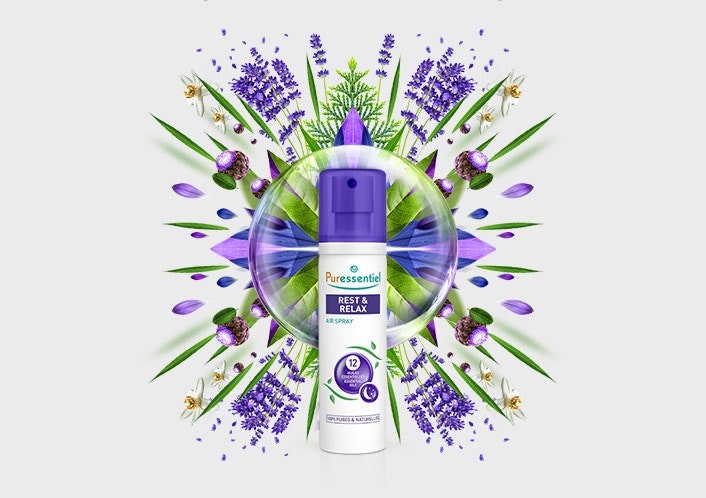 Millions of Britons are cutting their lives short — and increasing their risk of heart disease, diabetes, cancer and dementia — because they are not getting enough sleep, the latest research reveals. Puressentiel has a range of essences to help combat insomnia and sleep deficiency.
I have been trying some of these but as I have chronic insomnia it may take some time before I benefit. So much better to nip disturbed sleep in the bud by trying the Puressentiel Restful Range.
Puressentiel Rest and Relax Air Spray
£16.99/75ml
This can be used by the whole family, including infants from 12 months and provides the room with a rapid delivery of essential oils with each spray. With the aim of promoting sleep, reducing anxiety and balancing the nervous system, Puressentiel Rest & Relax Air Spray combines 12 essential oils: Rosewood, Roman Chamomile, Cypress, True Lavender, Green Mandarin, Sweet Marjoram, Neroli, Sweet Orange, Palmarosa, Petitgrain, Sandalwood, Lemon Verbena. Suitable for vegans.
Puressentiel Rest & Relax Organic Food Supplement Capsules £9.99/30 capsules
This combination of True Lavender,Petitgrain,Green Mandarin and Sweet Marjoram, works to promote deep, restorative sleep, help reduce anxiety and calm the body and mind. The capsules are tasteless, odourless and easy to swallow providing a natural way to absorb organic, essential oils. Take two capsules with a glass of water 20 minutes before going to bed.
Puressentiel Rest & Relax Bath-Shower £9.99/100ml
Gentle, soap free and non-irritant, Puressentiel Rest & Relax Bath-Shower brings the nourishing experience of a spa to your home. Whether it's poured into a running bath, or absorbed into the skin in the shower, the mix of 12 essential oils in this formula works to help reduce anxiety, aid healthy, deep sleep and balance the body. Pour one to two capfuls into the bath or use a capful in the shower.
The 12 essential oils used in Puressentiel Rest & Relax Bath-Shower are: Rosewood, Roman chamomile, cypress, True Lavender, Green Mandarin, Sweet Marjoram, Neroli,Bitter Orange, Palmarosa, Petitgrain, Amyris Sandalwood, and Fat Spike Lavender.
Puressentiel Rest & Relax Organic Massage Oil £9.99, 100ml
This oil combines the benefits of massage with the natural properties of essential oils which work to ease everyday tension, restore calm and encourage peaceful sleep.
It contains six essential oils: Roman Chamomile, True Lavender, Sweet Marjoram, Neroli, Petitgrain, and Ylang Ylang, which work to relieve stress and promote relaxation. It also has two organic plant oils — Sweet Almond oil and Sesame oil — to soften, moisturise and protect the skin.
Puressentiel Multi Blend Essential Oils for Diffusion 30 ml
£7.99/30ml
This specially formulated blend of ten concentrated essential oils is designed to be used in a diffuser to help relax, induce sleep and soothe tension.
It contains: Asian Rosewood, Cajeput, True Lavender, Fat Spike Lavender, Petitgrain,Palmarosa, Sweet Marjoram, Bitter Orange, Sweet Orange and Sandalwood.
Puressentiel Stress Roll-on £7.99/5ml
The Puressentiel Stress Roll-on contains 12 essentials oils to help release tension and calm feelings of anger, nervousness or low morale. Contains Roman Chamomile, Lavender, Lavandin, Marjoram, Mentha pulegium, Neroli, Orange, Petitgrain, West India Sandalwood, Clary Sage, Vetiver, Ylang Ylang.
Apply to the skin: inside of wrists, temples and sides of the neck. Rub the wrists against one another and breathe in deeply the scent of the essential oils whenever the feeling of stress arises.