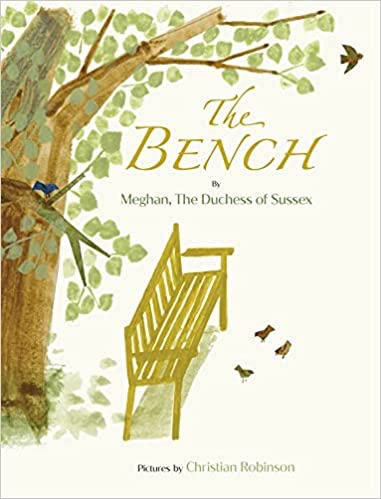 With illustrations by award-winning Christian Robinson, The Bench by Meghan, The Duchess of Sussex is a charming love song for her husband and son, and all fathers and sons.
On the announcement of The Duchess of Sussex's forthcoming children's book there was the usual brouhaha that surrounds anything she and her husband do. Outrage that yet another "celebrity" was publishing a children's book (mainly from other writers and people in the industry) and snide comments from the Sussex's detractors.
My review copy of The Bench arrived today. The Bench encompasses many benches, and as many diverse fathers although Prince Harry is obviously depicted. The bond is depicted in many scenarios – joy, sorrow learning, discovery and so on narrated in little rhymes which will engage the reader and encourage their interest. The illustrations are wonderful and can be used to spark all sorts of discussions between adult and child on such matters as disability, gender stereotypes and most of all about love.
It's not the most original book in terms of themes that I've reviewed but it's not the worst and the illustrations are certainly a plus factor. If Meghan had been a complete unknown I don't suppose she'd have found a publisher but that's the same with many "famous" authors.
Published by Puffin in hardback and on Kindle, available from Amazon: