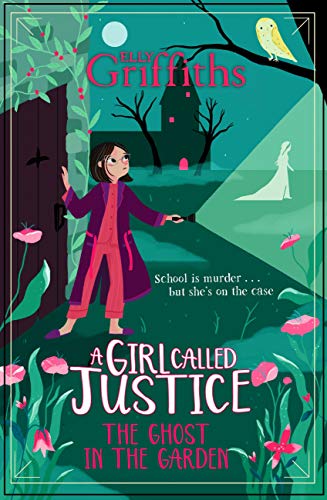 As many of you will know, I love reading young adult/middle grade fiction and A Girl Called Justice: The Ghost in the Garden is no exception especially as it is written by someone whose books for adults I greatly admire. Previously the last book I read by Elly Griffiths was The Postscript Murders which I reviewed for The Arbuturian. How fabulous that she also writes just as engagingly for a younger audience.
The Ghost in the Garden is the third book in the series which began with A Girl Called Justice and A Girl Called Justice: The Smugglers' Secret. Justice had been sent to Highbury House School for the Daughters of Gentlefolk after her mother died. It was a rude awakening for a young girl who had never been to school before and was not used to so many rules – or being away from her lawyer father. At the beginning on book three, she is returning to school after the summer break, having established a group of friends and a reputation for solving mysteries. What she didn't anticipate was a new girl called Letitia joining their "dormy" and there's no way she'd going to tow the line. Letitia's family is super rich and she swans around as though she owns the place, determined Justice will be her friend.
Griffiths brilliantly evokes a time gone by (1937) and the friendships and rivalries between the girls and the everyday life in a boarding school based in an old building said to be haunted... New staff have joined the school since the previous term including Matron and the art teacher. The girls are intrigued especially since Letitia never seems to get into trouble for her misdemeanours whereas Justice attracts rebukes... Then after a midnight feast in a shed in the grounds, Letitia goes missing and it takes all of Justice's sleuthing talents to solve the mystery and find the kidnapper before it's too late.
Perfectly plotted with a list of characters and maps at the front, A Girl Called Justice: The Ghost in the Garden is ideal for readers who love a well-written mystery with excellent characterisation and narrative style.
Although you don't have to have read the first two to enjoy A Girl Called Justice: The Ghost in the Garden, why deny your young readers the pleasure of starting at the beginning of Justice's adventures?
PWT rating: ♥♥♥♥♥
Published by Quercus Children's Books and available from book shops and Amazon:
A Girl Called Justice: The Ghost in the Garden: Book 3