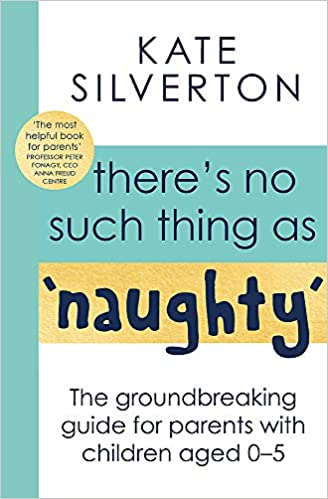 For anyone who has read my own book: Parenting Without Tears Guide To Loving Discipline, it will come as no surprise that There's No Such Thing As Naughty by Kate Silverton is something that would appeal to my theories of parenting.
In There's No Such Thing as Naughty, Kate Silverton provides a new blueprint for parenting under-fives that will make life easier and much more fun for the whole family. Her simple and unique strategies for managing what is traditionally seen as "naughty" behaviour gives readers the tools to manage those tricky everyday moments with ease, as well as transforming their relationship with their children.
So what's the secret? At the heart of the book is a simple and revelatory way to understand the way a child's developing brain works and how it shapes their behaviour. Rooted in the very latest science, Kate explains simple techniques and easy-to-follow scripts that equip and empower parents to react to their children's behaviour in a caring, considerate and empathetic way that is the key to future-proofing their mental health and emotional wellbeing.
Chapters cover everything from tackling tantrums to boundaries and labels, presenting in a clear and easy to read format with "Brain Boxes" with inspiring quotes from experts and each one ending with "Wise Owl Wisdoms" which give a brief summing up. There is an excellent bibliography for anyone who'd like to read more and, very important, a comprehensive index.
The narrative is designed to give confidence to parents. carers and grandparents to meet the challenges of everyday parenting with strategies to be better parents raising happier children.
PWT rating: ♥♥♥♥♥
Published by Piatkus and available from Amazon: There's No Such Thing As 'Naughty': The groundbreaking guide for parents with children aged 0-5
Away from the newsdesk, Kate Silverton has reported from the front line in Iraq as well as Afghanistan; on the HIV crisis in South Africa and Lesotho; covered the glamour of the red carpet in Hollywood; and presented a range of eclectic and acclaimed prime-time BBC One programmes including the flagship current affairs Panorama. In 2018, she battled her way through serious injury to win the hearts of the nation on Strictly Come Dancing.
For the past decade Kate has worked closely with leading children's mental health charities the Anna Freud National Centre for Children and Families, The Maudsley Foundation Trust and Place2Be. It is with the charity Place2Be that she is training to become a children's counsellor and, in due course, will go on to qualify as a full child and adult psychotherapist.