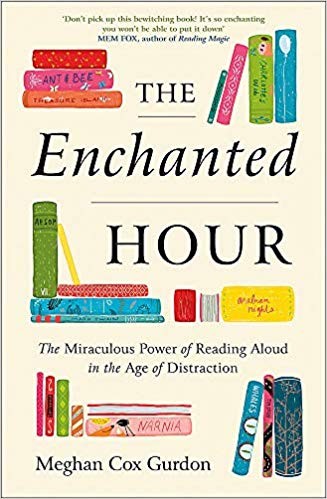 One of my favourite books is Alice in Wonderland. I studied it for my degree, but years before my mother read it to me at bedtime. She was always good at "voices" and I loved listening to her.
Another time, many years later, she was babysitting my daughter and some friends' children while we all went out for a birthday dinner. None of the adults wanted to leave before she finished the story she was reading to the children.
Needless to say that for me, Meghan Cox Gurdon is preaching to the converted with her book The Enchanted Hour but whatever we may feel intuitively and emotionally about reading aloud to our children, this book brings together scientific research to show that reading aloud is an antidote to short attention spans engendered by addiction to technology and television.
It's never to early to begin: babies love listening to your voice and as children grow older they appreciate the time you spend reading to them. You are demonstrating that they are important and you want to be with them. It was while I was reading Wind in the Willows to my daughter aged about three that I realised she was beginning to recognise words to read for herself. "Look," she said, "that says Owl and here and here." I was a fabulous moment to share.
A few years later my daughter would wriggle in excitement and say "Do the voices Mummy" when I was reading The Witches to her. Those moments add up and become part of our treasured family histories.
Meghan Cox Gurdon's book is beautifully written and crafted and her research seems impeccable. A useful appendix is books grouped together by theme like: Being Kind; Family Life; Friendship and Love and so on. My only slight criticism is that it would be useful the have her tips and advice highlighted in some way at the end of each chapter.
The author has been the Wall Street Journal's children's book reviewer since 2005 so she is steeped in literature aimed at all age groups and gives lists of books for you to consider reading aloud at the end of the book.
PWT rating: ♥♥♥♥♥
The Enchanted Hour: The Miraculous Power of Reading Aloud in the Age of Distraction
by Meghan Cox Gurdon is published by Piatkus and available from bookshops and Amazon.