With food prepared onsite by fine dining style skilled chefs, the TRU menu uses local, seasonal and organic ingredients and is carefully designed to help counteract the stress of modern living and support digestive wellbeing. Add to that exceptional specialty coffee and a great atmosphere in a central London sanctuary you have TRU.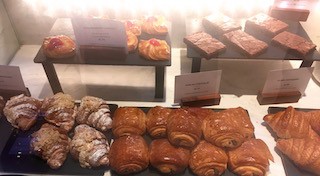 From gluten free to Paleo, vegan to world cuisine, good day or treat day – the TRU menu has been designed with one key element in mind – health. With delicious breakfast and lunch options including hot and cold dishes plus indulgent treats, juices and smoothies there's something for everyone. The combination of ingredients, the cooking techniques and the portions have been carefully curated with loving attention to detail so that they are truly better for you.
Pop in to TRU for porridge on the way to work and you can find vegan choices full of extras such as ground almonds, agave nectar, carob nibs and coconut milk. Or try the paleo eggs or a sweet poke bowl for breakfast with an energy boost juice to start your day the right way. Seasonal special hot dishes for lunch are changed weekly and include curries, baked fish and teriyaki poke bowls. Vibrant salads, wraps, bagels and sandwiches can be picked up to grab and go quickly without compromising taste and health. Need a 'cheeky treat' for the mid-afternoon slump? Come in and sample the too good to be TRU Coconutco Yoghurt or the Date and Rosewater Chia.