It's Black History Month so we're highlighting two fabulous picture books: Mama's Sleeping Scarf by Chimamanda Ngozi Adichie writing as Nwa Grace-James and What My Daddy Loves by Raissa Figueroa.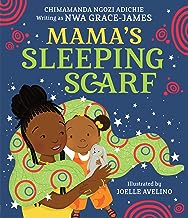 My daughter Olivia, an English teacher, introduced me to the writing of Chimamanda Ngozi Adichie with Purple Hibiscus which was being read by Year Nines. I found it a difficult read because of the domestic abuse but it is brilliantly written. How delightful therefore to read her debut children's book Mama's Sleeping Scarf here writing as Nwa Grace-James honouring her beloved parents; writing as a daughter for her daughter.
Mama's Sleeping Scarf is an an enchanting story of a little girl called China. The narrative encapsulate the joy of family life wrapped up in one day in Lagos illustrated by Joelle Avelino. the scarf is what Chino's mother wears to bead to protect her hair. But when she goes off to work the scarf becomes part of all sorts of loving adventures with Chino and her family.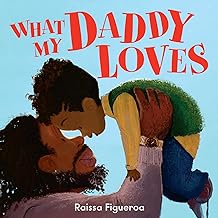 Raissa Figueroa's book reflects on the role of the male parent. What my Daddy Loves encapsulates the world of daddies and how each has a love of doing different things from exploring the world to fixing things but celebrating the love they feel for their children.
The illustrations portray the exuberance of paternal love and the special bond between fathers and their children.
I loved both these books published by HarperCollins Children's Books and available from bookshops and online.
PWT rating: ♥♥♥♥♥