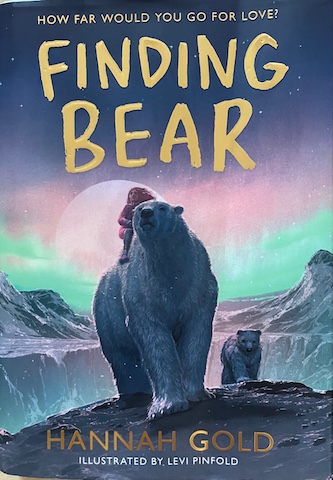 Finding Bear is an amazing adventure in the Arctic where bears and the environment are under threat.
April Wood is mocked at school for her love of bears they nickname her Bear Girl – but that love drives her to return to Svarlbard over a year later as she's convinced that Bear, who saved her life, needs her help.
My first recommendation is to buy Last Bear and read it first. You don't need to. I read Finding Bear without reading the first book and enjoyed every single page but reading Last Bear would have enhanced my enjoyment.
Against all the odds, April convinces her reluctant father that they need to go back to Svarlbard when her friend Tor emails to say a bear has been shot. Both Tor and April are convinced it's Bear.
What follows is an amazing adventure – with brilliant illustrations from award-winning illustrator, Levi Pinfold – which is a race against time and against all the obstacles put in April's way.
April faces immense challenges and learns more about herself as she finds Bear against all the odds and discovers why he needs her help. It's a story of love and loss, joy and sadness, friendships and profound emotions and growing up.
Some great adult characters people this book. Hannah Gold never preaches but allows the reader to understand more about our environment which is under threat, prompting us to care and protect it.
I defy any reader – especially adults – not to shed a tear or two. By the end of the book you will want to roar with Bear and April with passion and delight.
PWT rating: ♥♥♥♥♥
Published by HarperCollins Children's Books. Finding Bear is available from bookshops and online.