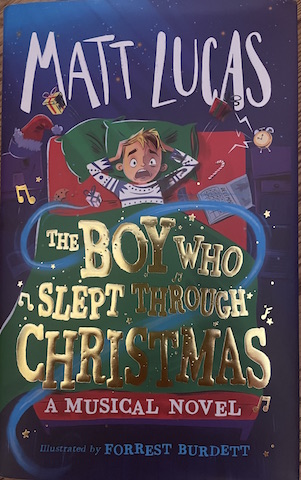 You just have to read the opening chapters of The Boy Who Slept Through Christmas by Matt Lucas to know that you're in for a treat. The first chapter is the author telling the reader that the book is about "This is the worst thing that could ever happen, actually happening..."
The language is fun and engaging, drawing the reader (or the person being read to) straight into ten year-old Leo's story. For Leo loved Christmas with a passion but this year would be different. Sadly his mum had died and he wondered if Christmas would ever be the same again but then he remembered the promise he'd made to his mum that he would have the best of times.
As it was usually Mum who'd organised Christmas, Leo had a huge task ahead of him and so much went wrong that he wished it would all "go away"... and now you'll have to read the book to find out what happens!
The narrative is perfectly illustrated by Forrest Burdett and at the end of the book is a song book with the words and music written by Matt Lucas who had always wanted to write a musical and here it is. Readers are in for a special treat as they can use the QR codes throughout the book to access the songs as you go though the chapters!
The small person I shared the book with loved the story and was delighted with the songs.
PWT rating: ♥♥♥♥♥
Published by HarperCollins Children's Books The Boy Who Slept Through Christmas by Matt Lucas and illustrated by Forrest Burdett is available from bookshops and online.