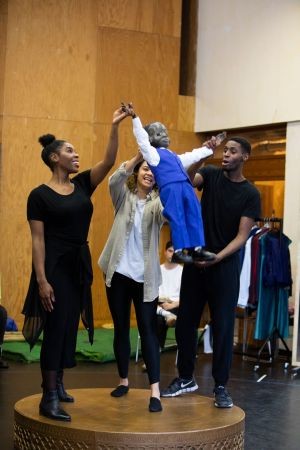 Last year we reviewed The Winter's Tale – an amazing production that was so popular it just had to be repeated.
Harriet (soon to be nine) "loved all the songs and the dancing" and "loved the puppets and voices".
She is an experienced theatre-goer but not yet conversant with Shakespeare's plays. This production was a perfect introduction, being just one hour long and embracing ways to engage a younger audience (recommended for the eight to 12 age group).

Fantastic performances.
Justin Audibert adaptated The Winter's Tale perfectly so that adults and children alike enjoyed every minute. Puppet/puppeteers were amazing. Well worth seeing.


PWT rating: ♥♥♥♥♥
The cast includes Joseph Adelakun, Ebony Feare, Tom Giles, Terique Jarrett, Christina Modestou, Aisha Toussaint, Wreh-asha Walton and Stanton Wright.
The production is designed by Lucy Sierra with lighting designed by Paul Knott. Music is composed and directed by Jonathan Girling and sound by Mike Winship. Puppetry is designed by Sam Wyer. Movement is by Lucy Cullingford and Maria Clarke.
The Winter's Tale will also tour to primary schools in Greater London in February and March as part of the National Theatre's commitment to introducing children and young people to theatre, with the production reaching approximately 9,000 primary aged children.