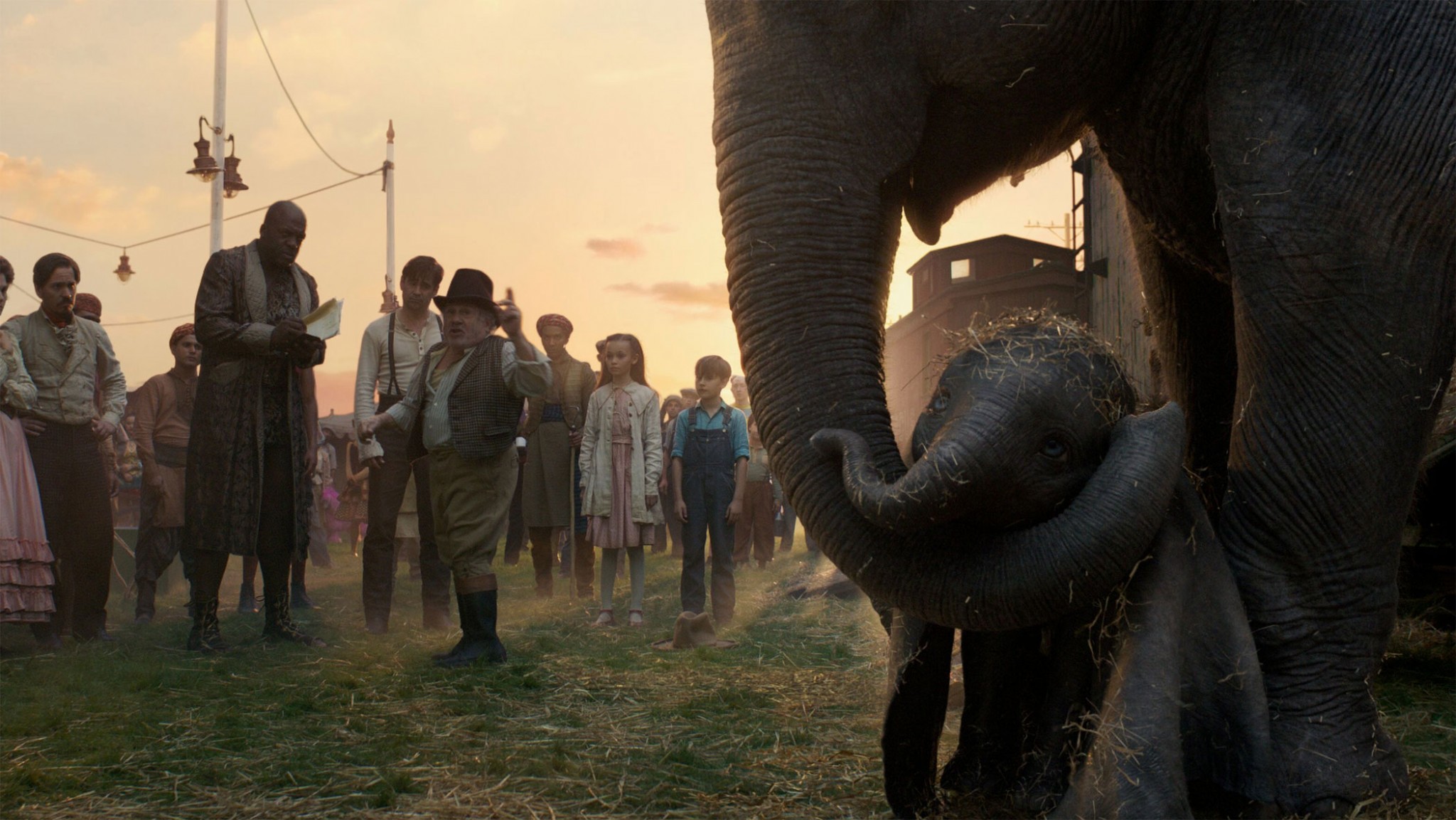 The time is 1919. Welcome to the Medici Bros Circus, run by Max Medici (Danny DeVito) which has just arrived in town by train in a brilliant opening sequence. Two children who've recently lost their mother eagerly await the next train with their father on board returning from fighting in WW1. But when Holt (Colin Farrell) steps off the train, they are in for a shock. Their father has had his arm amputated which puts an end to his career as a horse-rider and a metaphor for the loss of his wife with whom he performed. In fact the horses have been sold to support the run-down circus and Holt with Milly and Joe are directed to look after the elephants, one of which, Mrs Jumbo, is about to give birth... and her love is total and unconditional even if her offspring looks rather different.
The theme of Dumbo being separated from his mother echoes the the fate of Milly and Joe. Their grief-stricken father cannot reach out to them to renew the happiness they once shared. As the story progresses with Dumbo becoming a star attraction at Dreamland, the revelation that Mrs Jumbo is to be killed eventually activates the members of the Medici's circus to save her – each using their unique skills and talents. The theme of accepting differences is well defined in the film. There are some very dark moments as well as some laugh out loud hilarity.
The CG creation of Dumbo is perfect – the ears a huge to support flying and his looks are such to melt your heart.
Everyone knows the story of the elephant who can fly but Tim Burton's superlative production takes the narrative to a whole new level. The characters are well defined and develop with the narrative. One of my favourite characters was Pramesh Singh the Indian snake charmer played by Roshan Seth.People find their better selves – and if they don't woe betide them. All the baddies get their just deserts and the ending is beautiful with the message that animals belong in their natural habitat not in a circus.
Perfect family viewing. We loved it.
PWT rating: ♥♥♥♥♥