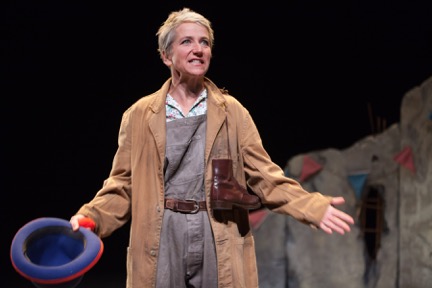 An Elephant in the Garden is the new adaptation by Simon Reade from Michael Morpurgo's bestselling children's novel:
Dresden, Germany, 1945. Elizabeth's mother works at the zoo, where her favourite animal is a young elephant named Marlene. The zoo director tells her that the dangerous animals – including the elephants – must be shot before the town is bombed ... and then the bombs start to fall.
Their home destroyed, they must flee the bombed-out city and through the perilous, snow-covered landscape, all the while avoiding the Russian troops who are drawing ever closer. It would be hard enough to do, but with an elephant in tow...
Performed by Alison Reid who has worked extensively as an actress at the RSC, for Filter Theatre, at Bristol Old Vic, Tobacco Factory Theatres and at the National Theatre.
Designer Max Johns; Costumes Elizabeth De-Tisi; Lighting Matthew Graham; Sound Jason Barnes
Running time 1hr 15, Age recommendation 8+
Listings Information
London, Vault Festival, Waterloo
Saturday 30 and Sunday 31 January, 2.45pm
Theatre Royal, Bury St Edmunds
Monday 1 February, 7pm; Tuesday 2 February, 1.30pm
London, Vault Festival, Waterloo
Saturday 6 and Sunday 7 February, 2.45pm
Tuesday 9 to Saturday 13 February, 3pm (7pm on Friday)
Tuesday 16 February, 2pm