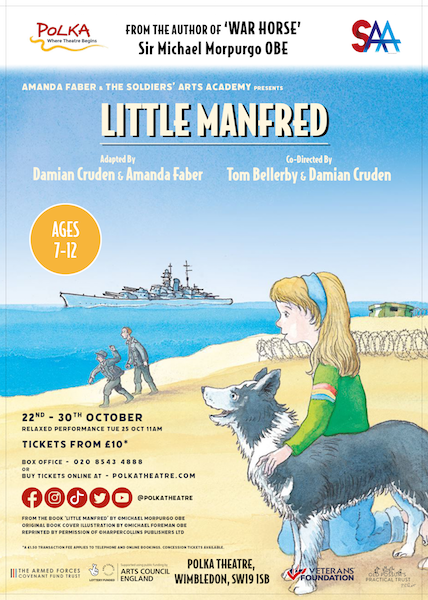 Capture the magic of Sir Michael Morpurgo OBE (author of War Horse), inspired by the illustrations of Michael Foreman OBE, on stage at the Polka Theatre this October half-term, as the Soldiers' Art Academy brings his novel Little Manfred to life.
With stunning puppetry and original storytelling, this is an unmissable production adapted from this much-loved story. Fuel your child's love of reading this half term by showing them Sir Michael Morpurgo's inspiring story, which never fails to enchant.
Set in 1966 following World War II, the story follows Charley and her little brother Alex when a chance encounter allows them to learn of their mother's past, and of the friendships that can be formed in difficult circumstances.
We have teamed up with Polka Theatre to offer one family of four (or group of four) the chance to see this production.
To be in with a chance of winning just answer this question:
What year is Little Manfred set in?
Please write Little Manfred in the subject line of your email and include all your contact details.
The sender of the winning entry will be chosen after 12pm on Monday 17 October, 2022.
The prize excludes the first performance (22 October) and is subject to availability.
Little Manfred:
Playing from 22 to 30 October at Polka Theatre, Wimbledon.
Box office: 020 8543 4888 boxoffice@polkatheatre.com
Website: www.polkatheatre.com
Tickets: from £10