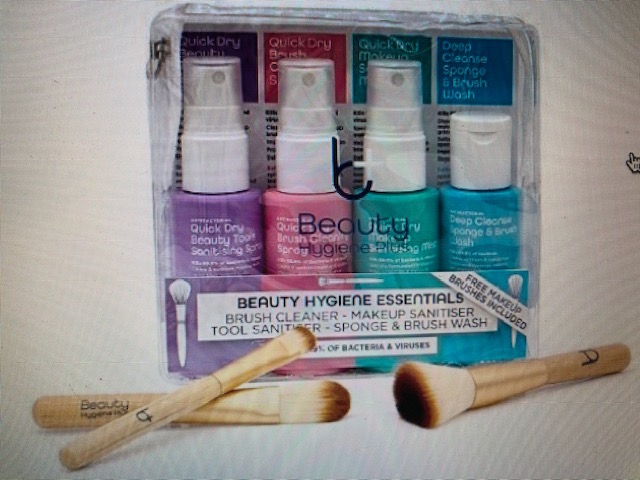 Caring is not always sharing especially when dealing with our cosmetics. Something young people need to know as soon as they start wearing make-up. Here's a handy set to make sure everything stays clean and it makes a perfect stocking filler.
Beauty Hygiene Plus Essentials kit comprises of the company's full range of 50ml hygiene products for your makeup, makeup brushes, tools and sponges – all in a handy clear biodegradable TPU plastic makeup bag.
The kit includes:
Quick Dry Makeup Brush Cleaning Spray
Quick Dry Makeup Sanitising Mist
Quick Dry Beauty Tools Sanitiser Spray
Deep Cleanse Makeup Sponge & Brush Wash
and includes a handy set of mini eco-friendly makeup brushes: a foundation brush, a powder/blender brush and a crease blending eye shadow/concealer brush held in a separate back pocket to them clean and tidy.
The products are antibacterial and antiviral – keeping you and your makeup and beauty tools hygienically clean.
Apart from keeping our cosmetics clean and hygienic we should all remember that they have use by dates – some as low as six months so do check your make-up back and throw away anything that had exceeded its date.
Quick and easy to use. The instructions are clear and simple to follow. Everything is recyclable, vegan friendly and not tested on animals.
PWT rating: ♥♥♥♥♥
Available from Beauty Hygiene Essentials and at the time of publication at the reduced price of £11.25 instead of £15.