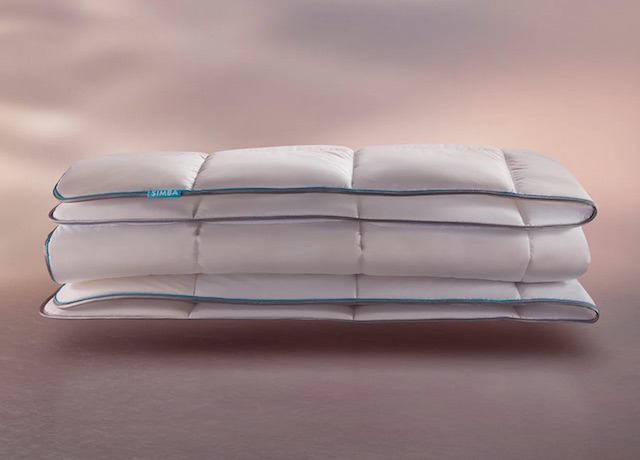 If you read my review of Simba's Hybrid Pillow you'll know how impressed I was, so I am delighted to be reviewing their Hybrid Duvet.
Sleeping under this is pure bliss as it's great for moderating temperature whether you're too cool or too hot – perfect for menopausal women and anyone who finds their temperature fluctuates during the night.
This is a 10.5 tog duvet suitable for all year round, made with one hundred per cent recycled/biodegradable filler and comes in a one hundred per cent recycled storage bag in smart grey. It is beautifully made to such high standards and looks so good it seems a shame to put it inside a cover!
The Hybrid Duvet is stitched into squares to prevent clumping. It's machine washable (in a large enough machine) and dries more quickly due to the lightness and nature of the fill fibres.
To make life even simpler, Simba have also added a QR code to a label on the duvet for easy access to recycling or care advice – and there's another label at the foot end of the duvet, so you'll always know which way round it goes.
These duvets are ideal for teens as well and if you'd like to read more about your offspring and sleep on Simba's blog, click here.
Personally I can't fault this duvet – it ticks all the right boxes – and now's a good time to invest in one as Simba has an up to 50 per cent sale on. So the double duvet, is now £149.25
PWT rating: ♥♥♥♥♥
If you'd like more information or to purchase Simba products click here.