My son, Mattie, who is eleven and about to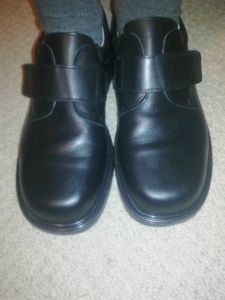 start secondary school, chose some plain black "William" velcro shoes from Cool Boys Shoes . We printed the sizing guide, which we found easy to use, including changing our print options to make sure that the guide hadn't been shrunk when it was printed!

We'd recently had my son's feet measured in a local shoe store and found that our measured size was the same, at just under a 3.5. Cool Boys Shoes don't seem to offer half-sizes so we opted for size 4.

The shoes arrived within 24 hours of our request and really surpassed our expectations from the photos on the website. The shoes have a high quality finish and are wonderfully simple and unadorned. We have struggled to find a completely plain pair of shoes in high street stores and, as this is a requirement of my son's new school, which has a very strict uniform policy, it was a relief to receive these shoes. But I was mainly very pleased with just how good the shoes looked – I wonder why more retailers don't realize that plain is good! Mattie was also immediately impressed.

We tried the shoes on using the advice given in the fitting guide to check if the size is correct. We found that the shoes fit well, if anything being very slightly on the large side, which I think is what all us Mum's prefer! My son has wide feet (normally a G fitting), which the shoes accommodate well. I wonder if the lack of half-sizes might be an issue in some cases, if the children's feet are just over a whole size but too small for the next size up.

Overall both Mattie and I are really pleased with the shoes. They seem very well made and look very smart, and the service and guidance provided via the website all works very well.
The pricing of the shoes is also competitive and it has been great to avoid the arguments we normally get in to when we go to the shoe shop. This is the first time I have bought shoes online and I will definitely be looking at Cool Boys Shoes when the dreaded shoe-shopping time comes round again!

PWT rating: ♥♥♥♥♥

Cool Boys Shoes in the school range retail at £35/£36.