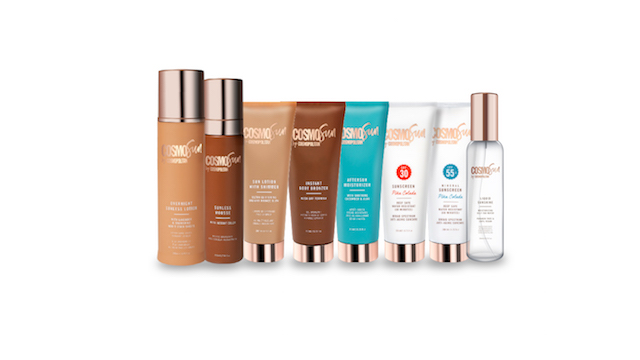 Cosmopolitan, a leading global media brand for young women, has partnered with 25-year sun care industry veteran, Devoted Creations, to launch CosmoSun by Cosmopolitan, a luxury sun care and self-tan line.
The cruelty-free, vegan and nut-free collection is suitable for all skin types and consists of five sunless tanning essentials: Sunless Mousse with instant colour, Instant Body Bronzer wash off formula, Sun Lotion with Shimmer, Overnight Sunless Lotion and Liquid Sunshine tanning water. Additionally, there are three sun care products: Water resistant sunscreens in SPF 30 and 55+ and an Aftersun Moisturizer with soothing cucumber and aloe. The Applicator Mitt completes the range.
CosmoSun's Sunless Mousse is a miraculous self-tanner that allows the skin to develop flawless deeper tanning results with ease. This revolutionary formula will give skin a moisture surge while also enhancing and creating an enviable natural looking glow.
The easy-to-use mousse application makes it ideal for all users as well as allowing for colour that is buildable.
FEATURES
Self-Tanning Mousse with Instant Bronzers
You control your colour
Easy to Apply, Streak-Free, Dries Quickly
No Smell of Self-Tanner Aroma
Paraben & Cruelty Free Self-Tanner
Salon Proven Formula
Fresh and Clean Fragrance
I love fake tans and over the years these have improved considerably. I tried CosmoSun's Sunless Mousse and a friend who's a make-up artist commented on how great it looked. As you apply you see the colour (and any bits you've missed). Lasts really well without fading.
My only concern was that when I when to wash my hands they had a grey tinge and I really had to scrub them clean.
In the future I will use an applicator mitt to apply.
PWT rating: ♥♥♥♥♥
The complete range is available from Amazon.
CosmoSun By Cosmopolitan Sunless Mousse With Instant Colour, 220ml.