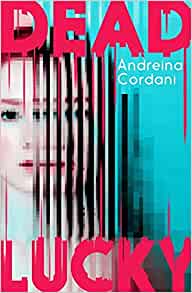 Dead Lucky by Andreina Cordani is is a fascinating insight into the world of influencers and social media aimed at YA readers. A crime novel which grips the reader from the first paragraph and then unravels a a mystery with as many twists and turns as you could wish for. This book is certainly aimed at the older teenage market.
Ed, Maxine, Leni, Xav. They are the influencers, the lucky ones. Gifted, gilded people who have everything — fame, respect, adulation, more freebies than they can ever unbox. Their lives, loves and feuds are shared with millions of fans on the streaming platform PlayMii, and they are living the dream.
But it's broken Ed's heart. It's crushing Maxine. It's destroying Leni's friendships. And it's gone to Xav's head. Then, a masked figure walks into Xav's apartment and murders him on camera. As the world reels with shock, Maxine discovers Xav was sitting on a file of secrets about his fellow creators — career-destroying secrets that they'd do anything to keep hidden. And if she doesn't find the file, she could be next . . .
But there are other characters' viewpoints like Sam, Xav's childhood friend and Frida who is intricately bound to the theme and a threat to her own life.
Above all it is about friendship, jealousy and revenge. But most of all, friendship.
In this gripping and well written book, Andreina Cordani has created a reflection of the influencers world and a "what if" it all got out of hand.
PWT rating: ♥♥♥♥
Published by Atom Books and available from bookshops and Amazon Dead Lucky