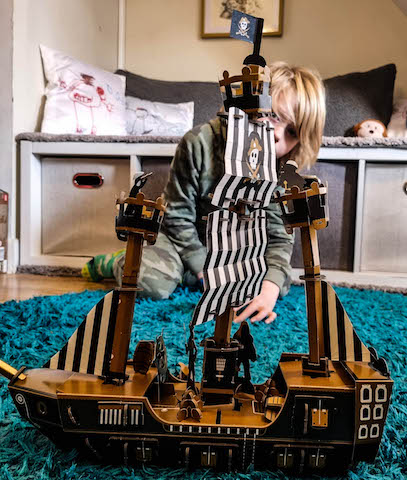 First off, a disclaimer… we have had one of these kits before. We attempted the Build Your Own Marble Run which proved to be a bit too much of an epic project for our boy (who was younger at the time), so we were a little apprehensive about reviewing a similar project, but this was a pirate ship! And it had a Cannon! And sharks! And you could have sea battles! So both the boy's and our interest was piqued!
The box is bright, colourful, and engaging. If it was on a shelf in a shop, we would buy it as we always look for family activities that enable us to spend time together. The price point is more affordable than some of the other sets. Our eight-year-old couldn't wait to get started on building – in fact, it arrived on the Wednesday, and he asked everyday through to Saturday if it was time!
So, Saturday arrived, it was time. We cleared the table and set out all the pieces. The instructions were clear and the extra labels on the pictures helped with the more tricky/fiddly bits. The pieces were easy to slot together and with a bigger ratio of cardboard bits to paper bits than the Marble run it made it much more conducive to little fingers (little man) and old hands (dad) Don't get me wrong there were moments that we, as adults had to take the reins, especially when the time came to thread the elastic bands.
The build time is listed as 60 minutes, and it took us about two hours (with a break in the middle) but maybe we're not as dextrous as the play testers who decide these things. To be honest, I actually look at a longer build time as more value for money in a set as it filled an entire rainy afternoon for us rather than just an hour, so this wasn't a negative. There was one point where we got a bit lost in the instructions and leapt to the online help… unfortunately for us it wasn't up and running when we were building so we had to make our best guess, but we think we sussed it out in the end!
I think if you were a first-time builder this would be the set for you. You can see the ship taking shape before your eyes, and there are even design choices to be made regarding the colour and style of your sails. The subject matter is great, After all even the adults love pirate ships. It has great interactive pieces, a cannon that shoots over masts, pirates, barrels and sharks.
If you are looking for a family activity this could be a great one, but I don't think it would be suitable for anyone that's primary school age to do it alone, unless of course they are that elusive child that sits building from instructions for hours at a time. Ours is a builder but is more creative when it comes to following instructions.
Again, much like the other sets, I must disagree with the "No Mess" promise on the box – we are still finding little punchboard pieces after we swept and hoovered!
A good product overall, we would give this a thumbs up. Our little guy has played with it after the build and the added element of the cannon firing is a real hit!
PWT rating: ♥♥♥♥
An eco-friendly STEM inspired kit, Build Your Own's new Pirate Ship is made from 100 per cent sustainable cardboard and paper and uses no plastic. available from Build Your Own.