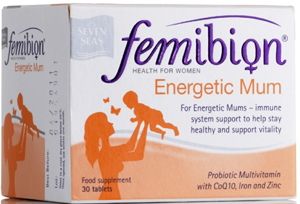 Seven Seas Femibion "Energetic Mum" is the first multi-nutrient probiotic specifically formulated to provide nutritional support for busy mums.

The daily food supplement ensures mums' diet is at its best, and helps them to stay healthy and energised throughout busy days.

Independent research has shown that the specially selected probiotics helps support the body's natural defense system while CoQ10 helps the body to release energy, keeping energy levels stable and helping mums to wake up feeling raring to go and ready to face the activities of the day!

Join now!

Every new member that joins Parenting Without Tears will receive a fantastic two months supply of the "Energetic Mum" supplement priced at £9.99 for one month.

Femibion Energetic Mum is part of the Femibion range of women's supplements from Seven Seas. The Femibion range provides supplements to support women through each of their life stages from Healthy Pregnancy to Radiance, Balance and Healthy Bones.

Femibion is available to buy from Boots, Tesco and all good pharmacies.

For further information on any of the Femibion range please visit www.femibion.co.uk
This offer is now closed.