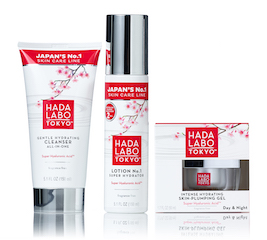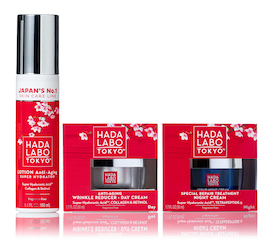 The new "magic" ingredient on the block is hyaluronic acid which features in the Hada Labo Tokyo™ range. Hyaluronic acid is a clear gel that's made naturally within the body. Its job is to lock in water to keep our skin, tissues and eyes hydrated.
Apparently an impressive number of us (43 per cent) do opt for skincare products that contain hyaluronic acid, with more than half (52 per cent) knowing something about the science behind this skincare ingredient. Seven out of ten women were aware that hyaluronic acid can help with skin appearance, with a third (33 per cent) of women deciding to incorporate it into their skincare routine after seeing it on social media.
As we all know during the winter months our skin is often dryer due to central heating and the cold weather so it's worth using products which will increase hydration. Plus for women women going through the menopause these products will really help with dryness.
I've been trying out some of the products in the Hada Labo Tokyo™ Red Range for older women – for younger women there is the White Range. another bonus for me is that the products are fragrance-free.
Lotion Anti-Aging Super Hydrator
This is applied to cleansed skin and used under a moisturiser. I find two squirts into the palm of my hand will cover my face neck and décolletage area. It is quickly absorbed and anything left in my palm I rub into the backs of my hands.
Eye & Mouth Area Cream
This is lovely and a tiny amount on your ring finger is enough for both eyes and around the mouth.
Extra Rich Day & Night Cream
I have been using this mornings only. The cream is rich but soaks into the skin with no stickiness afterwards. Leaves my face feeling super soft with a bit of a glow.
Special Repair Treatment Night Cream
Again this is applied to cleansed skin and after an application of the Anti-Aging Super Hydrator. A perfect way to round off the day and let your skin recover overnight.
The Hada Labo Tokyo™ range is available from Superdrug and at the time of writing there is 25 per cent of the RRP which start at just over £10 with the highest just under £20 .