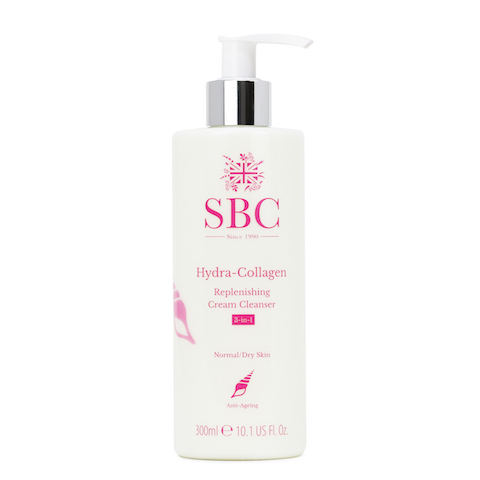 SBC Skincare Hydra-Collagen range are all formulated with Marine Collagen which targets signs of ageing for all skin types, on the face and the body. There are rich, intensive products for dry skin types, and lightweight options for oilier complexions.
Marine Collagen is an excellent humectant which helps maintain a healthy-looking, youthful appearance, helps to enhance suppleness and flexibility of the skin, prevent dehydration, and reduce the appearance of fine lines and wrinkles.
The formulas are also infused with eight essential amino acids, which exhibit powerful moisture binding properties.
For a few weeks I have been using the Cream Cleanser and the Serum.
SBC Hydra Collagen Replenishing Cream Cleanser (£26.50/300ml)
The 3-in-1 formula deeply cleanses skin of impurities and effectively hydrates the skin. This is really great at removing make-up including mascara. Apply a small amount (you really don't need to use very much so this is a cost-effective product) to dry skin. Massage gently and remove with a tissue or cotton pad. Splash on some water afterwards if you like that sensation. Infused with a blend of Marine Collagen, Kukui Nut, Papaya, and Passion Flower Seed Oils to hydrate, brighten and soothe and enriched with Shea and Cocoa Butters to nourish this has a gentle fragrance which I loved. Skin never feels tight after use.
SBC Hydra Collagen Intensive Serum, £29/30ml
Serums intensify results, helping to supercharge your skincare routine. Ultra-rich in hydrating Marine Collagen, blended with Passion Flower and Kukui Seed Oils this serum is formulated with a higher percentage of Marine Collagen than the rest of the collection, and contains a smaller molecular structure in order to penetrate the skin more effectively than a moisturiser. Feels great to use and leaves your skin feeling relaxed and nourished and you only need a tiny amount. Rub any surplus into the backs of your hands.
PWT rating: ♥♥♥♥♥
Available from SBC Skincare who at the time of writing have discounts on most of their products.