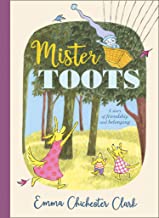 From the author and illustrator of I Love You, Blue Kangaroo comes this wonderful book which would be a great addition to any child's collection.
Mr Toots by Emma Chichester Clark is beautifully illustrated and sensitively told.
It is a story of the importance of understanding the needs of others and welcoming those who are outwardly different. The strange creature Mr Toots knocks at the door of Bella, Tulip and Tadpole and from there begins a touching story of friendship and acceptance.
I shared this book with four classes of children; they were all equally entranced.
It was a good starting point for a discussion on friendship and compassion and I would highly recommend it to parents and teachers of young children. Likewise, it would make a good present for children between the ages of three and seven years old.
PWT rating: ♥♥♥♥♥
Makes a perfect Easter present – no added sugar!
Published by HarperCollins Children's Books and avao;able from Amazon and book shops.