Books make great stocking-fillers Christmas, and birthday presents and these two – Einstein the Penguin and Diary of a Wimpy Kid: Big Shot – will delight young readers.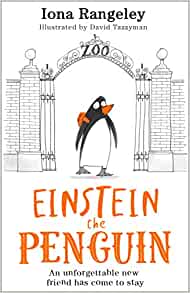 Einstein the Penguin by Iona Rangeley
Illustrated by David Tazzyman, Einstein the Penguin will steal the hearts of all who meet him in this enchanting book published by HarperCollins Children's Books.
A Christmas story with a twist. The Stewarts have a typical type of family on a visit to London Zoo on a cold December day. Everybody wants to see something different and dawdling with some of the animals means it is almost time for the zoo to close when they go to see the penguins. Imogen and Arthur are enthralled by a tiny penguin and have to be dragged away as their mother rashly invites the penguin to visit them at any time.
That evening, just before supper, the doorbell rings and a small penguin is standing on the doorstep with a backpack and a label: Einstein. He is, of course the penguin Mrs Stewart so rashly invited to visit them. What follows is an adventure that will enchant the whole family.
Recommended reading age seven plus but that's only a guideline (I'm much older and loved the story!).
A perfect Christmas read.
PWT rating: ♥♥♥♥♥
Available from bookshops and Amazon:
Einstein the Penguin: The perfect new children's book for Christmas 2021 – 'a delight' SUNDAY TIMES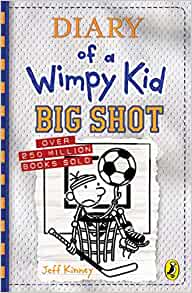 Diary of a Wimpy Kid: Big Shot by Jeff Kinney
Greg is back – number 16 in this bestselling series.
A disastrous competition at school, makes Greg realise that really isn't a sportsman! However his mom persuades him to give it one more go and makes Greg reluctantly agree to sign up for basketball. Tryouts do not go well, and Greg is sure he won't make the team. But then he unexpectedly lands a spot on the worst team. As Greg and his new teammates start the season, their chances of winning even a single game look slim. But in sports, anything can happen. When everything is on the line and the ball is in Greg's hands, will he rise to the occasion? Or will he blow his big shot?
A mix of cartoon illustrations and diary entries this book is aimed at the seven to 12 age range but will no doubt appeal to older readers who are loyal fans of the series.
PWT rating: ♥♥♥♥
Published by Puffin and available from bookshops and Amazon: