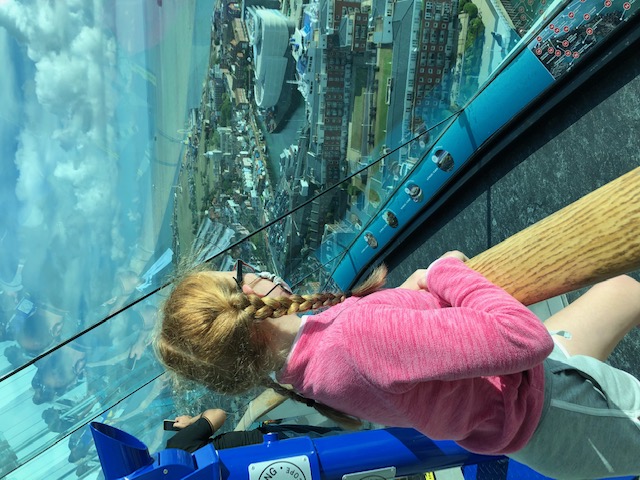 The viewing decks of the Emirates Spinnaker Tower, with their floor to ceiling glass walls, offer views stretching up 23 miles on a clear day.
During the current more limited opening, guests can only enjoy View Deck 1 and with 50 per cent fewer people allowed on, you really do need to book in advance and you only have a half-hour slot when previously a ticket would grant you all day access, allowing you to come and go as you please. The i-VIEW touch screens which provide information on the many points of interest in the view – from historical sites to the modern day, from the South Downs to the Isle of Wight and much, much more were also unavailable. However there is plenty of signage to help you identify the major sites.
There is a view deck host on hand to answer any specific questions you may have and to point out anything that may be happening on the day of your visit. The view is ever changing with warships and cruise ships heading in and out of port, events taking place across the city and harbour and even the time of day creating a different view.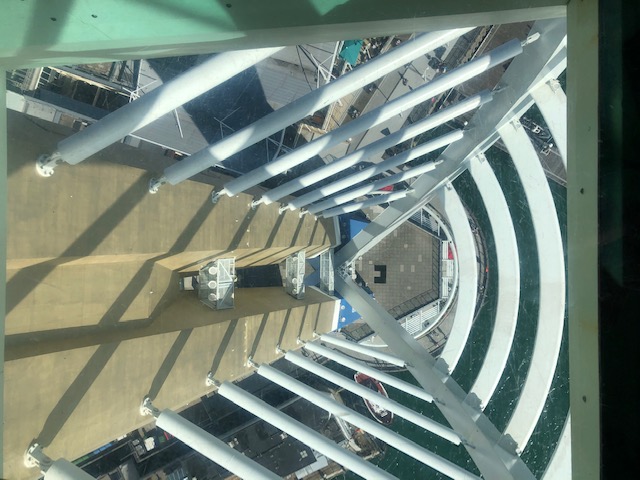 Another view you really don't want to miss is looking down through the Sky Walk located in the middle of View Deck 1, 100 metres above the harbour. It is made of three layers of glass totalling just 60 mm in depth but is, apparently, strong enough to hold a total weight of 288 stone – the equivalent of two black rhinos.
Even I with my fear of heights managed this and looking down through the glass gives you a whole new perspective on the harbour below.
Harriet, who took this photo, had great fun jumping and dancing across – I kept to a sedate walk and Olivia avoided the challenge.
All the staff were pleasant and helpful and there's a nice gift shop to pass through at the end of your visit.
Spinnaker Tower offers a view guarantee – if you find that, due to the weather conditions, you can't see all three Solent forts on the day of your visit, they will give you a complimentary ticket to return another day. You must speak to the duty manager on the day of your visit to ensure the view guarantee applies and receive your complimentary ticket. The return ticket must be used within three months of your first visit.
The Emirates Spinnaker Tower is situated in Gunwharf Quays, Portsmouth PO1 3TT England
For more information and bookings visit the website