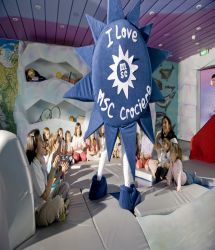 A family-run company, MSC Cruises aims to make life on board as relaxing as possible for parents and as entertaining as it can for children and is now offering three new features which will ensure that the whole family has an even more enjoyable holiday at sea.
During MSC Happy Dinners children are served their own dinner from the kids' menu while parents are enjoying their first course. However, when the younger members have finished at their usual lightening speed, instead of waiting (im)patiently for mum and dad, they are collected by kids' club staff and whisked off to have fun with friends, leaving their parents to enjoy the rest of their dinner in peace.
For children who would rather eat with their friends, MSC Fun Time Dinners may prove more tempting. Youngsters dine in a separate, specially decorated area of the buffet restaurant, supervised by the entertainment team, before departing for the Mini or Junior Clubs. To add to the fun, three of these are themed – Welcome Party, Italian Party and Farewell Party. Parents then pick up their children when they have finished their own leisurely meal.
Suitable for children aged from three to 11, both initiatives are completely free of charge. Parents simply need to register their children in advance.
MSC Cruises has also introduced a second, late afternoon nanny-hour to its kids' club programmes. Every day from 9am to 10am – and now also from 5pm to 6pm – MSC's children's team offers a special treat for babies and toddlers aged ten to 36 months and their parents, in the form of an organised programme of activities, including musical games, baby disco, puzzles and drawing.
For further information or to book, visit MSC Cruises