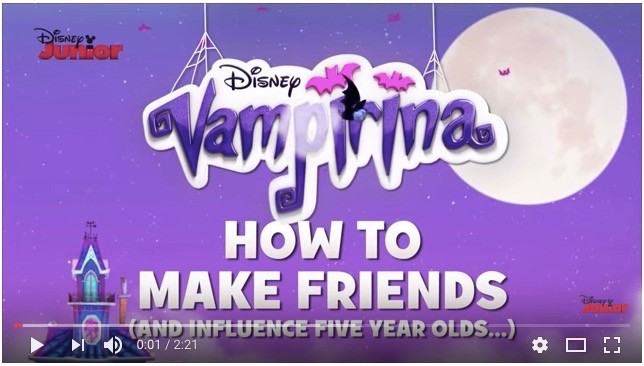 Parents, children, experts and Disney Junior have come together to create "How to Make Friends and Influence Five-Year-Olds", a video guide on how to make friends after research revealed "making friends" was a top concern for parents and guardians when it comes to their child starting school.
Disney Junior's Vampirina TV show carried out research revealing that over two thirds (69 per cent) of parents and guardians were feeling anxious about their child starting school and making friends.
The How to Make Friends and Influence Five-Year-Olds video guide is inspired by Vampirina, a show about a young vampire called Vee whose family moves to a new town and is faced with the challenge of making new friends, and includes wisdom and advice straight from the mouths of children, including saying hello, giving people your best smile, asking your new classmates questions about themselves, listening rather than just talking, joining in and taking turns, being kind and sharing things like your lunch. It aims to spark conversations between parents, guardians and children that ordinarily may be hard, and provide simple and practical advice.
Linda Blair, parenting expert and psychologist, gives her Top Tips for children and adults to help them make and keep friends on their first day at school.
How to make friends – Top Tips for Parents and Guardians
Do as I do

.

During the early years, parents are the child's best role models. Be sure you show how to make friends by setting a good example, e.g. giving the people around you your full attention - listen fully whenever your child, your partner or other key people around you want to tell you something. Show you're concerned about how other people are feeling and thank others when they do things you appreciate.

Read / watch stories about sharing and making friends

and talk about them afterwards. Start reading / watching these stories as early as possible - even before you think your child can understand them! Whenever you see an opportunity ask your child how a character could be feeling—and ask how they know. Disney Junior's TV show Vampirinia has some fantastic episodes exploring friendship, what it takes to be a good friend, issues they may come across and how to tackle them.

Make a head start.

Before your child starts a new school year, find out if you can who else will be in their class. Then invite one of those children over to play with your child during the summer holidays. That way, once school starts, your child already has a friend from the start of term. This in turn will reduce their anxiety when they go into class on that first day.
The How to Make Friends and Influence Five-Year-Olds video guide can be viewed here:https://youtu.be/aUC-iVSZsyg