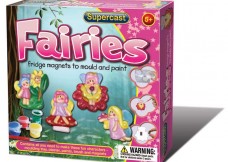 Harriet and I were gvien Dinosaurs and Fairies from the Supercast plaster fridge magnet collection to try out.
Not yet three year old Harriet was so excited. and we stirred the plaster together (very carefully!). I found we needed more powder than in the directions and I don't think I added too much water. Anyway when we arrived at the correct consistancy we spooned th mixture into the moulds.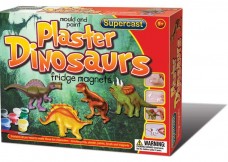 The moulds look flimsy but in fact do the job very well and can be reused. After two hours the Fairies and Dinosaurs popped out of the moulds. The Fairies were perfect but I'm afraid the Dinosaurs didn't turn out too well – two had broken legs!
You have to wait a further six hours to paint the magnets – so distractions needed for your young artists. The paint (six little pots) goes on well and comes with a paintbrush. The set included magnets which are self-adhesive so easy for small fingers to affix.
PWT rating: ♥♥♥♥♥
The Studio Anne Carlton collection comprises: Forever Friends £4.99, Farmyard Animals £4.99, Fairies £4.99, Horses £7.99, Dinosaurs £7.99, Jewellery Box £7.99 and the Alphabet £7.99.