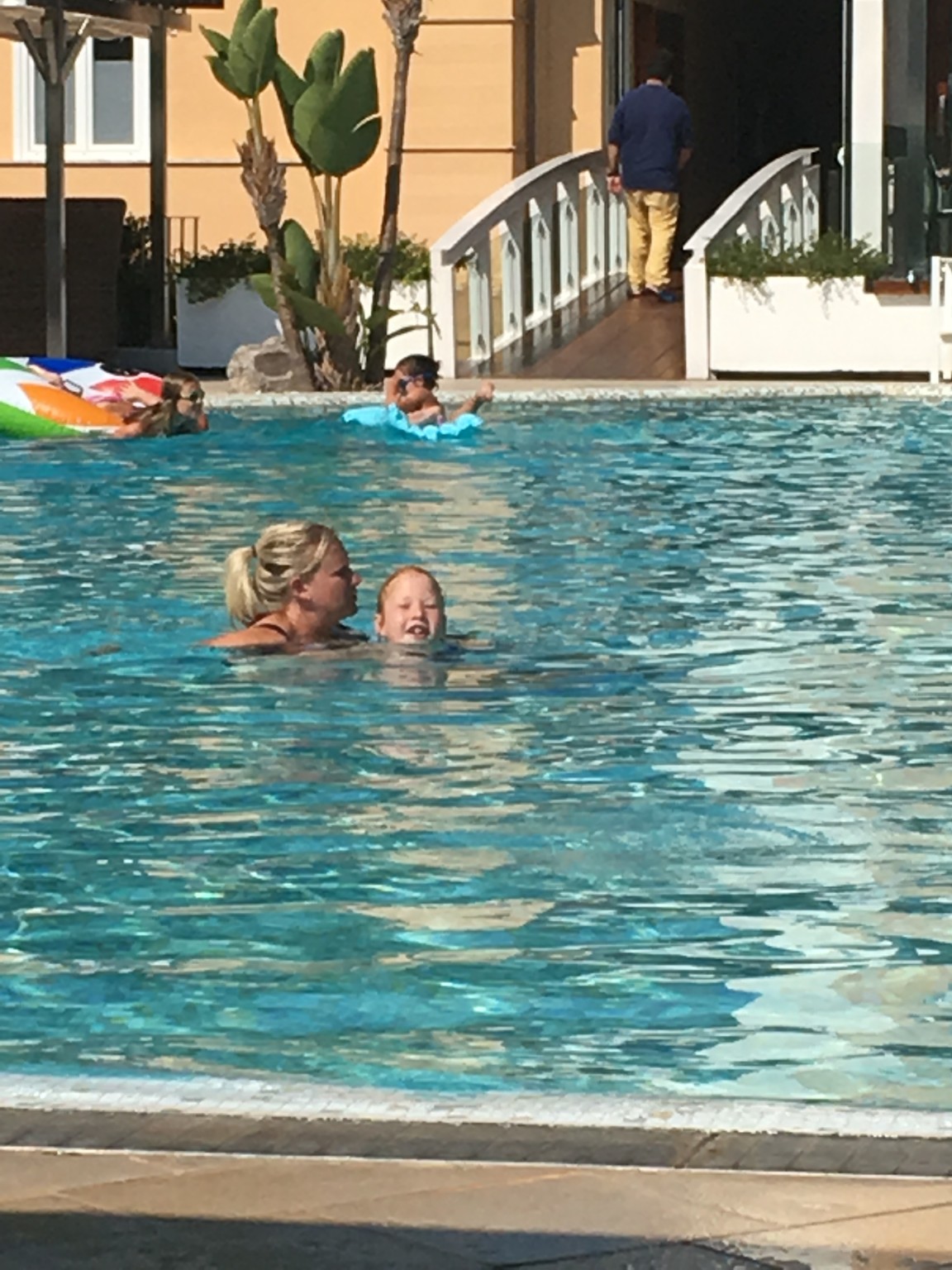 The first thing you notice when you check in to The Grand Hotel Moon Valley, near Sorrento, is the spacious reception area – and the air conditioning. We arrived after the usual dinner time so were asked to freshen up in our rooms then go to the restaurant.
Our room for three looked comfortable and the bathroom was a good size. There was plenty of storage space and we had a good sized balcony overlooking the sea (this was for a small extra charge). The room also had a safe and a fridge plus toiletries in the bathroom and plenty of towels. Rooms were cleaned every day.
The table we were allocated in the restaurant was outside and overlooked the pool. We had a free child place for Harriet but she had the same choice – and portions – as we did and the staff were amazingly accommodating taking on board our likes and dislikes etc. Throughout our stay we had nothing but excellent service. Harriet loved signing for our drinks and the elderly wine waiter was knowledgeable and charming. We selected from the dinner menu at breakfast and there was always a vegetarian option. The desert always seemed to be cake of some description although you could ask for ice cream and when they noticed we didn't choose the cake we were offered watermelon. couldn't fault the food except perhaps that there was too much! We had opted for half board and this proved to be a good choice as other guests told us that it was expensive to eat in local restaurants.
Although the hotel is large and appeared to be fully booked there is always a sense of space within the hotel and in the grounds around. There were also plenty of sunbeds around the pool with usually three staff keeping the place clean and tidy. Harriet loved the pool and made lots of friends there.
The hotel runs a complimentary minibus service to the beach (and station which is only a few minutes walk away) which was a disappointment. Very little space to play and it looked quite dirty in places. However there were lots restaurants and bars and we did eat there one lunchtime. Free trips into Sorrento about 25 minutes away were also on offer but you have to sign up for these and places can go very quickly. We left for Sorrento at 9 one morning and were collected at 1pm. Organised trips to places like Pompeii were also available but tend to be expensive. All this information is available at reception but it might be an idea to have an information pack in the rooms.
PWT rating: ♥♥♥♥♥
We booked our holiday at The Grand Hotel Moon Valley through Jet2Holidays.