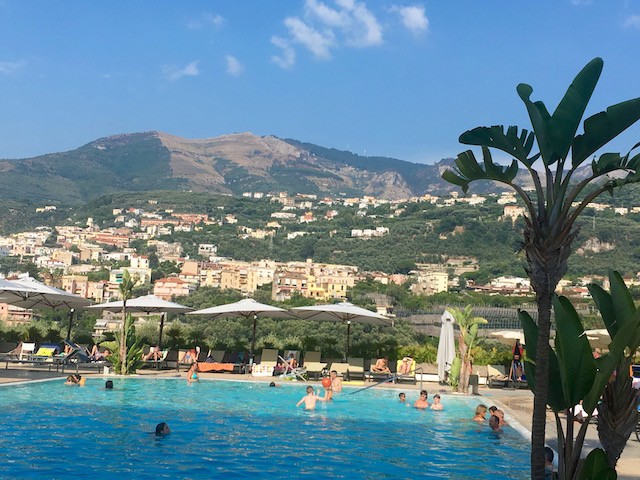 I had never booked with Jet2 before but saw some of their emails and was interested – it helped that I was fed up with the weather in February and wanted a treat to look forward to.
The company was offering £100 off per person and, even more interesting for us, offered free child places on some of their destinations. The free child place means exactly that: free accommodation, meals (if applicable) plus flight and transfers and including the same luggage allowance as adults.
Italy looked a good option for us and we opted for The Grand Hotel Moon Valley in Seiano, actually outside of Sorrento and about a 25 minute drive away plus easily reached by train.
The booking process was easy and and we opted for half board (just as well as it would have been inconvenient to travel out for dinner every evening) and a room overlooking the sea for a small extra fee. The only downside for me was flying from Stansted – not my favourite airport. However on arrival we were met by a representative from Jet2 who whisked us and our luggage through the formalities.
We could have pre-booked an inflight meal/snacks but chose not to. The staff were all pleasant and we were only about half an hour late taking off. On arrival at Naples it was easy to spot our Jet2 rep but it was quite a long walk to the coaches something to consider when travelling with suitcases and small children. En route to our hotel we were given cards with contact numbers for use 24/7 which was reassuring but fortunately we didn't have to use them as well as leaflets about tours which all seemed rather expensive.
At the hotel checking in was swift and after dumping our luggage and freshening up we were downstairs for our first meal.
The hotel is reviewed here.
We missed the "Jet2 welcome meeting" and only saw our rep in passing but that was more because we had no problems.
At the end of out week checking out was easy and we only had to settle the bar bill and local taxes which were 2€ per adult per night. Our coach trip to Naples airport was uneventful but I did feel that we were rather left to our own devices. Naples airport can be confusing and more input from staff would have been appreciated especially as we had to move from one building to another and it wasn't obvious where to go.
However, small quibbles aside, I would totally recommend Jet2 for family holidays and will certainly consider booking with them again.
PWT rating: ♥♥♥♥♥

For more information about all Jet2 holidays, destinations and current prices visit their website