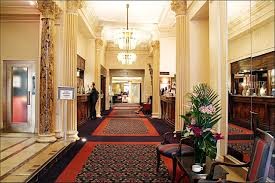 I booked the Normandy Hotel primarily for it's location and that I couldn't fault – minutes away from the Louvre and the Tuilleries Gardens, Place de la Concorde and easy access to the Musée d'Orsay, Bateaux Mouches and the Eiffel Tower. Another plus factor is the large number of bars and restaurants nearby.
So the hotel was perfect as a base but how did it rate in other areas? Billed as an example of the Belle Epoque the entry hall was spacious but the welcome wasn't as warm at the weather (nor was checking out). Our room was on the second floor – sweeping staircase and lifts available.
The room seemed tired and a little jaded. It was fine for an eight year-old but I would have been worried about toddlers. An air-conditioning unit (which wasn't on and when we tried it was so loud as to be unusable) had an exit pipe not secured to the hole in the wall. Plus the bathroom needed some TLC and the door didn't shut properly. Although guests were asked to reuse towels (as we should!) they were changed each day and even the soap we used was taken which seems wasteful. Sadly they used plastic cups as well.
However the room was clean and and relatively large for a city hotel room with:
plenty of hanging space and drawers
good size bathroom
toiletries and a double sink unit
shower in bath
flat screen TV
fridge
free wi-fi
safe
What was lacking was any information about the hotel in the room. Nothing to tell you the times breakfast was served from or to and what to do in case of emergencies.
Breakfast was 12€ (for children over six as well) and was a buffet which offered everything from cereals and croissants to bacon and scrambled eggs, from cheese and cold meats to fruits and juices. On our first day there was a dish of hard boiled eggs which suited me as I don't eat meat and have to avoid dairy. These were missing the next day but when I asked for some, I thought my French had really got rusty until I realised the waitress was Spanish! The breakfast is good value with unlimited tea, coffee and hot chocolate.
I booked through Booking.com and paid £250 for two nights, plus taxes and breakfast.
Difficult to rate, I hovered over three hearts but central location and value for money held sway.
PWT rating: ♥♥♥♥♥
Normandy Hotel,
7 Rue de l'Echelle, Ist arrondissement,
75001 Paris, France
Tel: +33 1 42 60 30 21