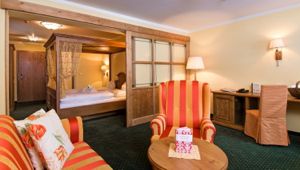 As a travel journalist, one often feels on a press trip that you are being treated in a special way and wonderful as this is, one wonders if it would be a different experience as an "ordinary" guest.
At the Hotel Wiesenhof there is no such thing as an "ordinary" guest – everyone is treated with the same warmth and welcome in keeping with the hotel motto: "arrive as a guest and leave as a friend". This is no empty boast on the part of the owners who take time to talk to their guests at mealtimes and when they meet during the day. Johannes and Alexandra Entner are the third generation of the family run business. Alexandra is in charge of their farm so is less obvious in the hotel, but Johannes' parents who live nearby are often present – you'll recognise Frau Entner senior by her striking resemblance to her son!
This is a family run hotel for families and nothing is too much trouble. On offer is everything you may need for small children so you really don't need to bring a buggy or all the paraphernalia that goes with babies and toddlers. Hotel Wiesenhof will provide these at no extra cost.
I was in a family room which had a room divider for perfect accommodation. Discuss when booking what types of beds/cots you need. My room had a balcony which overlooked the mountains and part of the village including the two churches. Picture postcard perfect. Another plus – the loo is separate from the bathroom which helps with little ones who just can't hold on while someone esle is showering!
For younger children there is playroom with giant Lego, a Wendy house and masses of soft toys. The games room has table tennis and table football and for those golf enthusiasts there's a simulator to improve your handicap – including smaller clubs for younger players.
Also on this floor is the ski room – the area prides itself on cross-country and a ski school – with regular guests leaving their skis in storage.
I enjoyed having the swimming pool to myself but my visit coincided with the ending of the winter season and I imagine it's a great attraction for guests as it's open all the time although, as one would expect, children must be accompanied.
The hotel maintains high standards of cleanliness and comfort with, in winter, log fires burning in the public rooms. And throughout there is a feeling of spaciousness. Nothing has been shoe-horned in but has been carefully thought out. This is a hotel to go to revive your senses and recharge your batteries…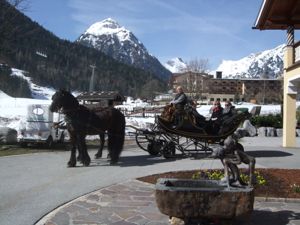 One of the highlights of any visit to the Wiesenhof is a horse and carriage ride, driven by Alexandra and the noble Bob and Marley. With a glass of sparkling wine in hand, it is a wonderful way to see the spectacular scenery.
Part of the ride took in a visit to the farm where, in the summer, children can take part in a pony club holiday. And I must say I could just picture little Harriet on one of the rather charming donkeys!
Other facilites:
Library
Free wi-fi and computers for public use by the library.
Beauty treatments
Gardens
Numerous sports
Sailing boat for guests to hire or be taken
Breadmaking in the summer for children
PWT rating: ♥♥♥♥♥
Hotel Wiesenhof offers various packages for families and couples – visit their website for the latest deals.
easyJet flies to Innsbruck, about 45 minutes drive away. Pick-ups can be arranged with the hotel.