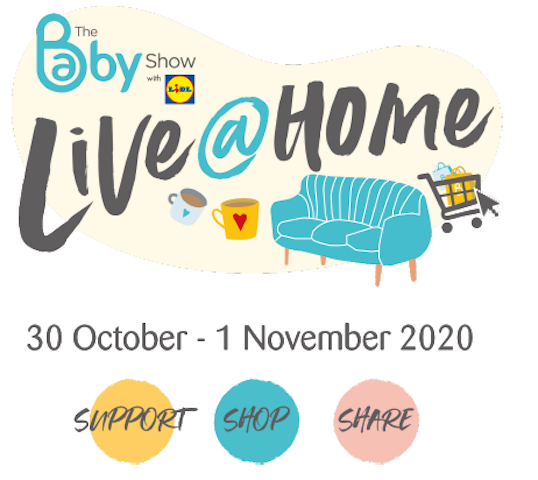 For 18 years, visitors have supported The Baby Shows by attending in London and Birmingham, this year The Baby Show is coming to you.
The Baby Show is the one-stop-shop for everything pregnancy and parenting. Tried, tested and trusted by the nursery industry and over one million parents and parents-to-be, The Baby Show saves both time and money. Offering the largest selection of sought after and boutique brands, advice from world-renowned experts, plus exclusive show offers that are not on the high street, new parents can find everything to help and support them on their parenting journey.
This intuitive platform, accessible by desktop, any smartphone or tablet via The Baby Show App, gives everyone the opportunity to experience the most-loved Baby Show in the UK. The Baby Show, live from your own home, on-demand.
We are offering 20 people the chance to win a weekend virtual pass to The Baby Show Live @ Home with Lidl from 30 October – 1 November 2020.
Featuring all the leading brands and the best boutiques, you can shop at your leisure over three days. You'll be able to shop new product launches, watch product demonstrations, create your own wish-lists, bookmark your favourite brands, chat directly to brands via live chat or even arrange a one-to-one appointment. Imagine being able to compare brands, products and prices all in one place without having to traipse around the shops. Not only will you save time and precious energy, but also save money with the hundreds of show offers, available exclusively for three days. Brands include Bugaboo, Cybex, Silver Cross, Mamas & Papas, Gaia, Babystyle, Ickle Bubba, Chicco, Stokke, Pampers, Tommee Tippee, BabyBjörn, Joie, Pura and Snüz plus a plethora of boutique brands including Hippychick, Itsy Kids, Bluebell, Pattie & Co, My Precious Delivery, Dolittle Dumplings, Cuddledry, Nibbling, Shnuggle and Zippy Up.
For the chance to win a free weekend virtual pass (RRP: £20), simply register here and enter the code LAHOCT011.
Terms and conditions:
1. This code can only be redeemed for The Baby Show Live @ Home with Lidl, from Friday 30 October at 9 am until Sunday 1 November 2020 at 5 pm to shop and a further 48 hours to be able to view the pre-recorded videos.
2. This code is valid for only one standard Weekend Virtual Pass entry and excludes any MadeFormMums goody bags.
3. To redeem a complimentary weekend pass, you must complete the form and include the competition code.
4. Once the form has been fully completed you will receive an email from hello@swapcard.com (where the event is hosted) with your personal login.
5. This code must be redeemed by Monday 26 October 2020, midnight.
6. Nobody can access the digital platform or app without buying or receiving a complimentary pass
7. Weekend Virtual Passes cannot be transferred and there is a no cash redemption.
8. The Presenter reserves the right to alter or vary the content or timing of the whole or any part of the event in circumstances beyond its reasonable control without any obligation to make any refunds or exchange tickets.
9. The Presenter does not accept any responsibility for any loss or damage to personal property while taking part in this event.
10. Please check event details, timings as these may be subject to change.
11. Any queries relating to the event should be made to enquiries@thebabyshow.co.uk, prior to or during the event.
12. Your data will be used in conjunction with our Privacy Policy